The 411 Talks to George Clinton – The Godfather of Funk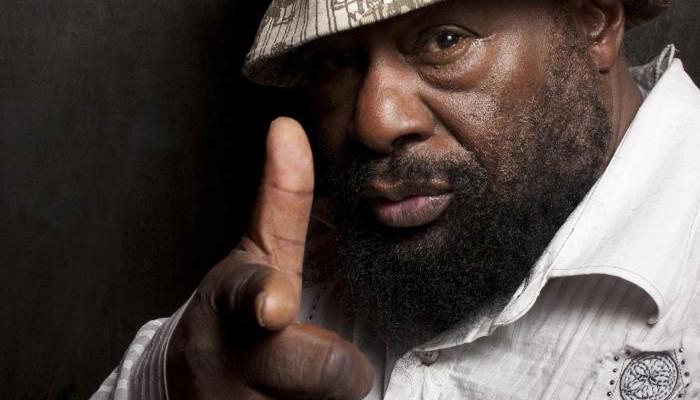 It's fitting that we spoke with one of the greatest innovators in Black Music this month, George Clinton. We all know and love him as the godfather of funk, but it might surprise you to learn that his life and his work has involved a whole lot more than his legendary funky grooves. From doo wop to Motown and hip hop, Dr Funkenstein is a walking, talking, grooving history lesson for
us all.
George Clinton's music is innovation at its finest. Magical. Other worldly. But when we look at what was going on in pop culture when he first formed Parliament and Funkadelic, the magnitude of his genius becomes clear. On the heels of a groundbreaking Motown era, in the early days of Philadelphia Soul, just as disco grooves were blowing our minds and punk rock was changing the way we thought about music, George Clinton came out of not- just-left-field but out of a field we never even knew existed. He created something so new and different that it became a whole genre unto itself and P-Funk was born.
And although we like to think that he descended to Earth in the mothership, George Clinton had actually been amassing influences for years from far flung places like Detroit, New Jersey and Europe to craft his new works of art.
After singing doo wop on street corners in New Jersey as a teen, George made his way to Detroit and became a staff songwriter for Motown. While he was there, Smokey Robinson, Berry Gordy, Holland-Dozier-Holland and production teams like Ashford and Simpson all left a powerful impression on the young artist. "That was the team that was just unbeatable," he remembers of his own personal Motown era. While soaking in the best that R&B had to offer, George also kept one eye - or should we say ear - aimed at Europe. A new crop of musicians, ones who idolized the blues, were emerging and their music was loud and exciting. "I listened to groups like Cream, those kinds of British groups, and it made me go back to learn about a lot of the older blues musicians," he says gratefully.
"That European version of rock and roll was real loud and psychedelic, as they called it. I saw that things were changing. So we did some of the same things with the Motown music we were working on. We made it loud with a lot of emphasis on the bottom, the bass, and we called that Funkadelic as opposed to psychedelic. That's when we invented the 'free your mind and your ass will follow' concept," he laughs. "It wasn't the blues, like with those European rock bands. It was midtempo just like Motown and music out of New Orleans. But it was really loud."
From 1969 until 1974, George made loud, technicolor music. With the arrival of Bootsy Collins came the addition of horns. "We had the horns, which added in a Sly Stone and James Brown type of sound. Our intentions were straight dance music but still keep it funky with the freedom of arrangement. We were all over the place." P-Funk were mashing up all kinds of music into a mystical gumbo. It was new and exciting and fans loved it.
"It was the same kind of thing that hip hop is doing," George points out. "They started taking samples of records and the songs became like a radio station playing all of those records in one record….like a DJ changing sounds."
Speaking of hip hop, George Clinton has appeared on songs from Kendrick Lamar to Grandmaster Flash, Public Enemy to Snoop. "P-Funk just kept growing into whatever new sound that we came up with or somebody else came up with," he explains. "Like when hip hop came up we just became a part of that. I try to insert my funk into whatever's going on," he adds, laughing.
How does he still do it after all these years? How does he keep growing and being innovative and working with emerging talent and musical styles? "Soon as I hear something getting on my nerves, I start paying attention to what is going on. That's usually the next new music," he says, only half jokingly. "And if you get in early enough you're not copying, you're growing along with it."
George will always have one eye on the future, but this time next year, he'll be doing the watching from his musical laboratory instead of from the road. Last month, George Clinton announced that he will retire from touring in May 2019. We, and all of our guests, are so grateful to be able to see him in his final year of touring while on the Soul Train Cruise. And George is looking forward to a lot on the cruise himself.
"Maybe I can gorge on the food," he jokes. "And the places we go to - I like checking them out." He also was eager to share a packing tip with all of you. "Bring two bootys," he laughs. People are going to love the concert. They're going to feel it in their butt. So I'm telling you to bring two bootys."