A Letter from Your Host, Tony Cornelius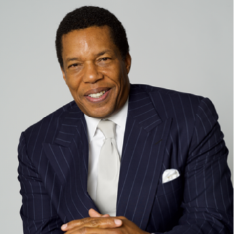 To my surprise, Soul Train is so many things to so many people. It was a destination for us to hear the music we loved and see the artists that would eventually change the industry and the world. It was where we learned to dance, to dress, to do our hair. It was where we could relax, be cool, and express our blackness. And it was a place where we could shine, be inspired, celebrate our culture, to be everything we wanted to be. Even after all these years of being a part of its legacy, I am humbled every time someone tells me of the impact Soul Train has had on their lives.
It brings me awe that a group like En Vogue would point to their childhood spent in front of the family television watching Soul Train as a stepping stone on the path that led them to their dreams. I am amazed at how En Vogue is so much like Soul Train and embodies what it set out to do. They inspire, they elevate, they showcase astounding talent, bring style and showmanship together, and they give it all to their audience. Musically, En Vogue pays homage to the evolution of soul music which has been the core of Soul Train from the very beginning. Guess what? Did you know that En Vogue's "Hold On" opens with The Miracles' song "Who's Lovin' You" and that both groups will be joining us on the Soul Train Cruise next year?
I hope you'll enjoy this issue of the newsletter and get to know En Vogue a little bit more as we gear up for the 2024 sailing. I look forward to seeing you all there.
Oh yeah, two last things: "Hippest Trip – The Soul Train Musical" premieres in San Francisco in September of this year. Lastly, I'm excited and honored to also announce my father is being inducted into the 2023 Rock & Roll Hall of Fame, receiving the Ahmet Ertegun Award, given to non-performing industry professionals who, through their dedicated belief and support of artists and their music, have had a major influence on the creative development and growth of rock & roll and music that has impacted youth culture.
And as always, wishing you Love, Peace and Soul.
Tony Cornelius