Celebrating Our Favorite Music And Its Legacy Throughout Black Music Month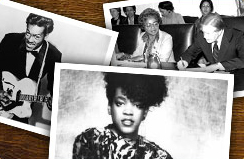 Did you know that when President Jimmy Carter declared June as Black Music Month back in 1979, the Soul Train Cruise's very own Evelyn "Champagne" King was there for the historic moment? After President Carter addressed the world about the importance of recognizing and celebrating the deep legacy of African American music and musicians, he hosted a concert on the South Lawn of the White House where Evelyn performed (along with Chuck Berry and Billy Eckstine) in front of 1,000 guests. 30 years later, President Barack Obama officially renamed it African-American Music Month, and the celebration has lived on ever since.
We wouldn't have this incredible month if not for Kenny Gamble, legendary songwriter and the uncle of Soul Train Cruise special guest Chuck Gamble. After creating the Philly Sound and founding Philadelphia International Records with Leon Huff, in the midst of working on 175 gold and platinum records, while making records about empowerment and advocating for social, economic and health changes, Kenny came up with the idea of commemorating all of the achievements and the impact of African-American music. He shared the concept with his wife, music industry executive Dyana Williams, and the pair enlisted broadcaster Ed Wright to pursue the dream.
With a helping hand from Clarence Avant, the trio spent a year explaining to President Carter why this recognition was so important and so vital. And by June 7, 1979, they stood outside the White House to watch their dream
come true.
But it turns out their work wasn't over yet. Nearly 20 years later, Dyana found out that the month lacked an official presidential proclamation, so she tirelessly worked to meet with politicians and advocate for the legislation. Philadelphia's Representative Chaka Fattah, along with assistance from Senator Arlen Spector, both agreed to help her and by 2000 the bill
was passed.
"It's more important today than ever before; a reminder of what a great art form black music is," Kenny once told Billboard magazine. "Our legacy and present contributions still encourage those of future generations. It's a cultural expression of multiple American genres; the basis for most other forms of music. We need to keep it going. As a community, we need to support black music, teach it in schools and every place you can think of.