Hold On to En Vogue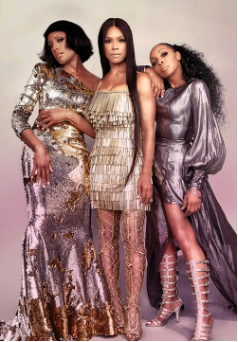 En Vogue was raised on Soul Train. Just like the rest of us, they were glued to the television set as soon as that train came rolling across the screen, watching the beauty, fashion and innovation of the dancers and listening to the jaw-dropping performances of the artists. Little did they know that one day they would become everything that Soul Train embodied: the talent, the grace, the style and undeniable greatness.
And just like Soul Train's impact on the world, En Vogue has left their own permanent mark. They are one of the Top 10 most successful girl groups of all time, have sold over 20 million albums, their songs have been streamed more than 30 million times and their videos have over 26 million views. They have received seven GRAMMY nominations, won seven MTV Video Music Awards and, of course, won three Soul Train Awards.
But for En Vogue fans, it is all about the performances. Dynamic concerts filled with impossible harmonies and showstopping solos, staging and lighting that rival a Broadway show, explosive energy and intimate connections with the audience at the same time.
"Well, it takes a village," Terry Ellis explains modestly. "We have an incredible team of people helping us with everything from choreography to wardrobe to lighting, and our band brings all the music to life. It's when all of those things come together with our passion for what we do, and the fun of it, that it becomes this dynamic show."
"And we get so much back from the audience," adds Cindy Herron. "It's amazing and helps fuel our performance every time. They're singing along, just having a great time and when we see that, it takes our energy up a whole other level."
The journey that took Terry Ellis, Cindy Herron and Rhona Bennett from watching Soul Train in their childhood living rooms to bringing down the house night after night was filled with hard work, unwavering faith, and rewards that they never take for granted. "We didn't know what the future would hold," says Cindy about the early days of the group. "We hoped, but we knew there was a chance it wouldn't work, that we could record that first album and then fade away into obscurity because we've seen that happen to a lot of artists even after they've had that first hit." "And now, to be able to be on stage, singing these songs, still loving what we do, still having fans follow us and come out and support our shows…I could never have guessed this would happen. And when I really stop and think about it, it just amazes me all over again," she adds, her voice filled with gratitude. "The blessing is that we still get to do this with no end in sight."
"I think our producers had a big hand in setting us on that road," Terry chimes in. "Denzil Foster and Thomas McElroy were very, very creative and really saw the different musical and personality characteristics we each brought with us. And we shared a love for all kinds of music, we drew inspiration from such a vast range. All of that went into the process and it worked out so well."
That creativity and love of everything from soul to R&B, rock to doowop, hip hop to funk can be traced back to those years spent watching Soul Train performances. Part of a newer generation of Soul Train fans, the members of En Vogue grew up understanding the show's importance and iconic role in American culture. So, stepping onto the Soul Train stage for the first time was a powerful moment for the group.
"It was absolutely incredible," recalls Terry. "It was a dream come true. And it was surreal, because never in a million years did I think as a little kid that I would be on Soul Train. But there I was." "Then when Don Cornelius interviewed us, it was a 'pinch myself' moment. And the crowd was amazing. Being on stage in that room that we watched forever on television…" Terry says as she trails off, filled with emotion. "It really was like a dream come true," Cindy finishes for her.
The dream will live on when En Vogue joins the Soul Train Cruise in 2024. "The nostalgia of it all is amazing," exclaims Terry. "Everyone will be in that mindset of having fun and hearing some good music and there will be lots of dancing. You know, Soul Train is how I learned to dance, and probably everybody else! So make sure y'all have your dancing shoes on when you come on the cruise." "We look forward to being there and seeing everybody, performing and helping to make sure everyone has a fabulous time," adds Rhona Bennett.
If you can't wait to see En Vogue's incomparable talent in action before they board the Soul Train Cruise in 2024, you can catch them on tour in these cities: Tour — envoguemusic.com