More of Your Favorites – Plus a Few New Acts!
We hope you're ready, because the Soul Train Cruise 2022 is shaping up to be the best one yet! Check out these two brand-new acts that promise to keep us partyin' all day and all night on the Pool Deck. But that's not all! We've added a few past favorites that the Soul Train Cruise just wouldn't be the same without.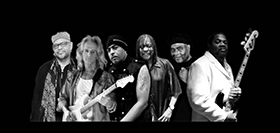 Formed in 1978 by the legendary Rick James, the GRAMMY and American Music Award Winning The Stone City Band will be bringin' their unique funk/punk sound and electric energy poolside in January! The Stone City Band served as James' exclusive recording and touring band throughout the height of his career and are responsible for the sounds behind "You and I", "Super Freak", "Mary Jane", "Fire and Desire", and countless others. Since then, the band has released their own albums under Motown's Gordy Label and have performed live at The Grammy's, the Soul Train Awards, The Arsenio Hall Show, Saturday Night Live, and many more.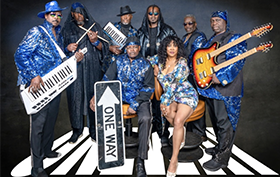 Also joining us in a few short months is One Way featuring Al Hudson, who promise to bring that old school funk and R&B we've all come to know and love. Based out of Detroit and releasing their first album in 1976, the group became an instant classic and began touring, often appearing on popular shows with major stars like Barry White, Al Green, The Spinners, and many others. Best known for their smash hits "Cutie Pie", "Lady You Are", "Mr. Groove", and "Don't Think About It", One Way featuring Al Hudson is sure to bring something special to our Soul Train stages.
Plus, three fan favorites will be back again to bring some more soul to the high seas! Kimberly Sunstrum, Chris Hardin, and Keith & Leslie Ferguson, and Co-Hosts Angela Stribling and Jerry Wells are returning to make our 2022 voyage even more unforgettable. Our annual family reunion just wouldn't be the same without them. We can't wait to bring the Love, Peace & Soul to the high seas for another amazing week!