We Just Can't Get Enough of The Manhattans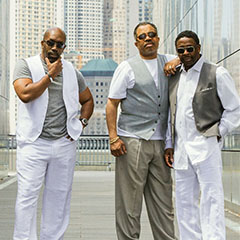 Gerald Alston on Right
We feel so blessed every time an R&B superstar joins us on the Soul Train Cruise and are humbled when they tell us they'd like to come back and sail with us again someday. But we never could have imagined that The Manhattans would return to our "hippest trip at sea" for a fourth time next year. And what makes this voyage even more special is that Gerald Alston will be celebrating his 50th anniversary with the group. Just 19 years old when he joined The Manhattans, he quickly helped them land their biggest hits, from "One Life To Live" to "There's No Me Without You," "Don't Take Your Love" to "Kiss and Say Goodbye," "Shining Star" and so many more. The Manhattans will be bringing their 33 Top 40 R&B hits, 20 Top 20 R&B hits and 11 Top 10s on the cruise, and we can't wait. Gerald recently told us about all the things he's looking forward to doing on the cruise and what he's got in store for the fans.
"The Soul Train Cruise really takes me back," Gerald Alston tells us with excitement in his voice. Just thinking about getting back onboard the cruise next year fills him with anticipation and emotion. "A lot of our fans from back in the day are on the cruise and we can reminisce with them. And when we talk to those fans, they take me back to where it all started…what happened when they saw us in concert or heard our music and what was going on at the time. It really does make you feel good to have people come up to you and reminisce and take you back to it. It's exciting to me."
You read that right. One of the most successful vocalists in R&B is just as excited about the Soul Train Cruise as we are.
"We get to see how fans have grown with us and they bring an attitude to the cruise, allow themselves to go back and really be themselves," he explains. "They love music from the '70s, the '80s, the '90s and up to the present day. That's exhilarating for me because I'm able to go back that far, I can sing any song and they know it. And it's just special - we can reach out and touch the fans and just have a good time with them. It's a wonderful experience."
Hanging out with fans and performing concerts are just part of how Gerald spends his days and nights on the ship. "I just enjoy myself," he says with a smile. "I go to the different events and some of the parties on the deck. I enjoy eating," he laughs. "One year, I got to officiate a vow renewal ceremony with about 20 couples and I really loved that. We had a ball with it." He's even hosted the Gospel Hour with Howard Hewett, a delight to fans who have followed his gospel career. In fact, Gerald is planning to release a new gospel album next year and just might perform a new song or two on the cruise.
"I actually started out singing gospel," he says. "It was back in high school. In fact, sometimes we would just walk into church and sing, we wouldn't even be on the program, but we'd come in and sit in the back and they would call us up to sing. It's something that we loved doing. My father was a gospel singer and my Uncle, the late Johnny Fields of the Blind Boys of Alabama was a big inspiration."
"We're recording a Manhattans new album now and as soon as we finish I'm going to work on a new gospel album," he continues. That's right. There's a new Manhattans album on the way. "We're definitely going to perform some of the new songs on the Soul Train Cruise," Gerald promises, including their recent single, "Get It Ready."
As he looks forward to creating new music, Gerald never stops being grateful for everything that has brought him to this moment. "We sing and perform music from the heart and I really appreciate that it brings me the chance to connect with my fans. Whenever I sing 'There's No Me Without You,' it's a love song that shows our love for our fans and everyone who supports us. We couldn't exist without them all."
We appreciate you, too, Gerald, and we can't wait to show you just how much when we sail together in January!