The 411 Talks To Howard Hewett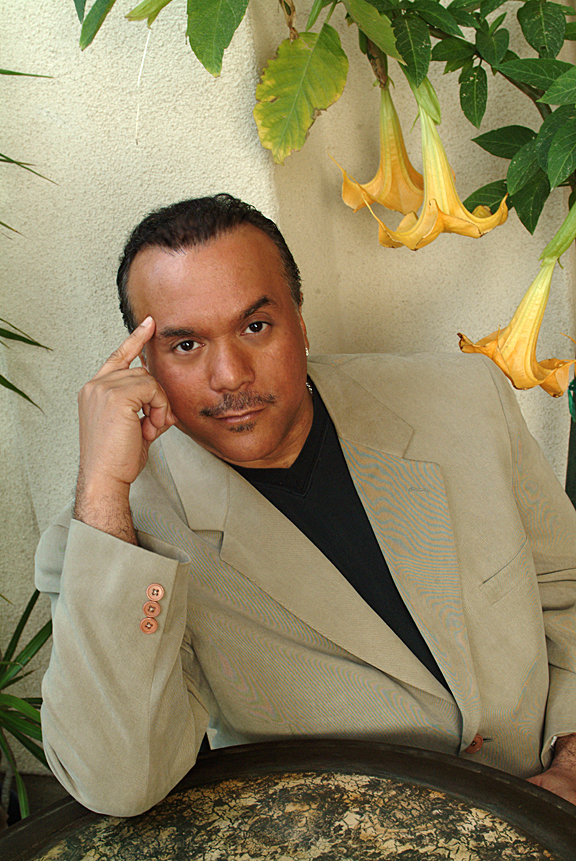 Like Soul Train itself, Howard Hewett moved to Hollywood in the early days of his career and saw it soar and evolve alongside the legendary television show. Their destiny and paths crossed time and time again and will once more come together when Howard performs on the Soul Train Cruise in January. We spoke to Howard recently about his road to professional and artistic success and how Soul Train has always been a part of it all.
"When I touched down at LAX I had about $34 left in my pocket," Howard reveals about the day he left his hometown of Akron, Ohio for Los Angeles to launch his career. "At the time, I was like 19 years old, almost 20. Everybody believes that there is an overnight success situation but that's never the case. But I've sung since I was 10 years old, this is all I've done."
Armed with a work ethic as fierce as his vocal talent, Howard soon met John Daniels who owned Maverick's Flat, the center of the R&B and funk universe in the city. It was there at Maverick's Flat that Howard also first encountered Jeffrey Daniel and Jody Watley, already superstar dancers on Soul Train and who would eventually become his partners in Shalamar. "Everybody used to go there," he reminisces. "The Soul Train dancers used to dance on top of the tables. Any weekend you'd see Lionel Richie, Earth, Wind and Fire, Chaka Khan and Richard Pryor. We'd stay there until 4 in the morning. So I met Jeffrey and Jody there before they were even Shalamar." It was his first brush with the Soul Train family.
"Just like everybody else in the nation, on Saturday morning at noon in Akron everybody was in front of their TV watching Soul Train. I used to see Jeffrey and Jody on Soul Train - they were the most innovative dancers on the show. The first time I met Jeffrey, it was when he came up to me after a show I did at Maverick's Flats and I told him, 'Man, I used to watch you and Jody all the time' and then he introduced me to Jody."
John Daniels wasn't just the impresario of the fabled nightclub; he also had a knack for spotting talent and assembling R&B groups for worldwide tours. It didn't take long for Daniels to invite Howard to work with him. "We put together a group called Beverly Hills and rehearsed for about 9, 10, 11 months and then when we were in shape enough to tour, we went overseas. The first time, I went for about 9 months, came home for a month, then went back out for about 5 months. I spent every night onstage from Helsinki to Saint-Tropez to Geneva, throughout Asia, Singapore, Malaysia."
On the way back home from a concert in England, the group decided to go their separate ways. Howard waited only until the jetlag wore off before jumping back into work. While singing backup for another artist, a producer took note of his talent and quickly promised him a deal with Motown. One day, before heading to a meeting at the Motown offices in Hollywood, Howard dropped his girlfriend off at her job at the Soul Train Dance Studio. This marked his second – and perhaps most fateful – connection to the Don Cornelius empire. "Jeffrey Daniel had actually approached me about joining Shalamar a while back, but I had already promised to go back overseas with my group. But that day, Jeffrey knew that my lady worked for Don so he called her to find out where I was and learned that I was in the Motown building. So right during the meeting the phone rang and they said it was for me. So I get on the phone and it's Jeffrey, asking me to join Shalamar again. I got off the phone and told everyone in the meeting that Jeffrey was offering me an equal position in the group and then they all tried to convince me to sign with Motown instead of join Shalamar. When they got finished talking I said, 'Well, I'm parked on the street so I need to go put money in the meter.'" Instead of going to the meter, Howard headed over to the offices of SOLAR Records, which happened to be in the very same building. By the next day, Howard was sitting in SOLAR founder Dick Griffey's home watching videos of Shalamar concerts.
"Dick says to me, 'Jeffrey and Jody say you're a great singer so sing something.' And I broke into 'Feel the Fire' by Peabo Bryson, got through the first verse and half the hook when Dick says, 'Hold on, I'll be right back.' He goes upstairs and comes back and gives me $500 cash and pulls out an airplane ticket and says, "Here's an airline ticket, you gotta take the redeye out tonight, you gotta meet the group in New Jersey tomorrow, rehearse the lip sync and choreography to 'Take That To The Bank, because you have a television performance on Monday.' And that was it," marvels Howard.
Ever the professional, Howard took the plane ticket and the money and spent the flight mastering the song and dance steps. His intense focus and calm demeanor hid his true feelings. "One of the things about being from Ohio is that you have to be cool about everything," he laughs. "That's one of the prerequisites about being from Ohio. But inside I was going crazy."
Howard spent the next several years recording a string of hits with Shalamar and performing around the world, including several stops at Soul Train. "I met Don like way before Shalamar, back when my girlfriend worked for him. She used to get me down when they would do the tapings and she sometimes danced sometimes on the show. The first time I ever met Don, I was star struck. When 'Second Time Around' came out and we went on Soul Train, it was the first time I'd seen him since I joined Shalamar. He said, 'Man, you never told me you could sing.' I answered back, "You never asked me!'" The two went on to become close friends. "He was an amazing, amazing cat."
After Shalamar, Howard embarked on a solo career that brought his seductive vocals front and center and cemented his status as one of the greatest romantic singers in R&B. His insistence to include "a song for the lord" on every album he has recorded since then has paved the way for his artistic growth into Gospel and delivered his signature hit, "Say Amen." "That was the first inspirational song that I did and every album since then and from now always will have an inspirational song." In more recent years, Howard has developed a jazz career that paired him with the greats; George Duke, Stanley Clarke, Everette Harp, Joe Sample.
But he will always come back to his love songs, songs that his fans clamor for and swoon over. His latest single, "A Love of My Own," was released so fittingly on Valentine's Day. It's classic, gorgeous, romantic R&B and will go on the next album that Howard has planned.
And he'll do a little bit of everything while on the Soul Train Cruise – both onstage and off. Howard will headline the main stage with a concert full of his hits and he's hoping to return for the Gospel Hour. As for the rest of the time he's on the ship? "With Tony (Cornelius), it's almost like a family type of vibe. We had a great time on the 2016 cruise. I did everything on it that I wanted to do."
Stay tuned for more updates from Howard on his website and social media platforms:
www.Facebook.com/howardhewettfanpage