Secure Your Pre-Cruise Hotel and Transfers Before We Set Sail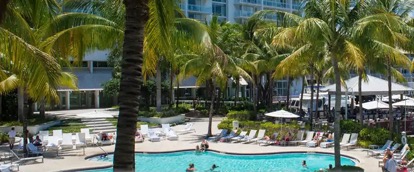 Start your vacation stress-free and in comfort. Take advantage of our group rate and stay in a beautiful, nearby hotel before we set sail on the 2020 Soul Train Cruise. Enjoy a vacation before your vacation at the Hilton Fort Lauderdale Marina hotel with palm trees, scenic views along the Intracoastal Waterway, and even a heated pool. Get a chance to savor local dishes and cocktails at the outdoor Bar & Grill that overlooks the beautiful grounds.
Book now since we have reserved a limited number of rooms.
Guests may also call 1-800-HILTONS for reservation assistance, just make sure to mention that you're part of the Soul Train Cruise 2020 group.
Plus, for those staying at the Hilton Fort Lauderdale Marina, we provide luggage service and motor coach transportation on the day of the cruise from the hotel right to the ship for just $19 per person. Simply bring your luggage down to the lobby and transportation helpers will assist you loading your luggage into our ground transportation and deliver it to the terminal. That's it! Your luggage will be delivered to your stateroom on the ship. If interested in this service, simply log in to your StarVista Live account and select Hotel Transfer to Cruise Pier.*
*Please note: only the person that's been identified as financially responsible for the reservation may add items onto their StarVista LIVE account. If you're not the Primary person listed on the account, make sure to coordinate with them so you don't miss the many Add-On opportunities we offer such as this Luggage Service/Hotel Transfer.