Ready or Not, Here's After 7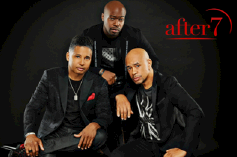 Soul Train has always been there for us, bringing good times and great music into our lives, creating something so much more than a community. It's been our family. And for thirty years, it's been After 7's family, too. We first fell in love with the group when they performed "Heat of the Moment" back in 1989, cheered them on as they brought down the house at the Soul Train Music Awards in 2015, and were so proud when they were nominated in 2016. When we first heard they'd be on the 2022 Soul Train Cruise, it was like finding out that our favorite cousins would be going on the vacation of a lifetime with us. We recently spoke with Kevon Edmonds, Keith Mitchell and Danny McClain about what it's been like to be a part of the Soul Train family for their entire career and got a little surprise about what they've got in store for 2021.
"I never really stopped to realize that we've been a part of the Soul Train family in so many different ways over the years," marvels Kevon Edmonds as he looks back on the three decades the hit-making group and the iconic television show have spent together. "To think that we've been involved with its history like that, it's an honor. The fact that we get that opportunity is so humbling. We would not have had the impact that we had on a lot of listeners and viewers without the strong support of the Soul Train family, and it takes family to make a lot of things happen," he continues. "It was a community, it was a family, and it still is. We couldn't have done what we've done without Soul Train."
"I'd say that some of our fondest memories of Soul Train were when Don Cornelius was around," Keith Mitchell adds. "And those were some nervous moments for us back in the day," he laughs. "And then we were nominated for an award in 2016 for our comeback album, and although we didn't win, it was such an incredible opportunity. To be a part of something so important that was bringing Afro-American artists to the households of young Blacks across the country, well, we are just so grateful. It's been such a blessing that Soul Train has endured all this time and has featured us along with many, many, many hundreds of other artists."
With a little help from Soul Train, After 7 delivered 30 years of hit songs, iconic videos, sold-out tours and well-deserved awards. And then there's that comeback album that Keith mentioned. "Timeless" was released in 2016 and delivered five Top 10 R&B hist, including their #3 smash "Runnin' Out." "We felt that was a God-sent opportunity, our first new album in more than 20 years," says Keith. "Babyface sat down with Kevon and put together an idea. We actually started out thinking 'let's just do a single, let's see what people think after not hearing any new songs from us for so long' and the project ended up turning into an entire album. It was incredible. But what I really love is that we were able to get Melvin involved in that project," he adds wistfully of Melvin Edmonds, who passed away in 2019. "After the success of 'Timeless,' a couple of labels reached out," Keith confides, "and so we decided to put something new together." "All I can say is that you will see us in 2021," teases Kevon.
"We're in the final stages of recording," he finally reveals after we begged for more details. "We had an opportunity to work with someone that I've known for quite some time, a dear friend who's also a producer, Damon Thomas. I feel good about the direction the new album goes in, we decided to still be After 7, to be who we are, but show up in a different kind of way. I think it's true to After 7's style and approach, and it's fresh!"
"We're excited about what the possibilities are for 2021," he continues. "It's probably one of the most uncertain times in any of our lifetimes, but I like that we have light and hope giving us something to look toward right now. We set out to make this new album into something that could speak to people who need to feel a good feeling and to share some of that hope. That's part of the drive behind our new music."
Adding to the excitement and new spin on After 7's forthcoming album is the addition of Danny McClain, who joined the group in 2019. "I think Danny is going to bring some chilling, thrilling moments for the ladies in our fan boutique," Keith says with a smile. "It's an exciting opportunity for him and he's been a great complement to the group. His contributions have been quite immense onstage and now he gets to shine in the studio, too. I think fans will be very thrilled with his performances."
"I'm not going to lie, it was amazing," Danny says, describing his time in the studio with Kevon and Keith. "When I first got in there, I was nervous, but under the guidance of Kevon, Keith and Damon, everything went smoothly. It feels good when these kings, Kevon and Keith, say what they said about me. And I'm going to put my best foot forward for the fans."
The mood changes slightly when After 7 are asked about those fans, who they haven't seen in nearly a year as the world grapples with COVID-19. "I am grateful to our fans who have supported After 7 through the years, who appreciate what we do and hopefully we'll have opportunities to get in front of them with some live performances again soon," says Kevon. "I hope that fans of all music continue to protect themselves, continue to wear their masks, continue to social distance," adds Keith. "We've lost a lot of freedom to the pandemic, we've lost a lot of the things that feel good….but it's going to take us being diligent, wearing our masks, social distancing and doing the right thing so that we can get to the point where we can see you guys in 2021." "One of the things that 2020 made me realize is that we're not as immortal as we think we are," Danny adds philosophically, "so love up on your loved ones, make sure you tell those people that you love them, make sure you show them that you care."
We couldn't agree with them more and, before ending our chat, made a promise to keep ourselves, our families and our community safe knowing that better days are on the horizon.