James Ingram Says "Yah Mo B There" to Soul Train Cruise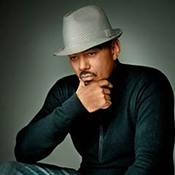 Soul Train Cruisers know — and love — that their days and nights on The Hippest Trip at Sea will be filled with Grammy winners and Grammy nominees performing onstage and showing up to all kinds of special events. But an Oscar nominee? Wait, make that a two-time Oscar nominee. Now that's something we haven't seen onboard before. Until now. When the Soul Train Cruise sails through the azure blue Caribbean in February, Grammy and Oscar nominee (and Golden Globe, too) James Ingram will be there, along with all of his hit songs that have earned him a lifetime of awards.
"I am humbled by it all," says Ingram when asked about his Grammy Awards and back-to-back Oscar nominations. "I was just happy to be a part of that piece of history. It blew me away." The modest singer/songwriter/producer won his first Grammy for "One Hundred Ways" in 1982 and collected a second just a few years later for his duet "Yah Mo B There" with Michael McDonald. In all, he racked up 14 nominations throughout his career, but nothing could prepare him for what the Academy Awards had in store. In 1994, Ingram received an Oscar nomination in the Best Original Song category for "The Day I Fall in Love." Thrilled by the honor, he never expected a second Oscar nomination (and Golden Globe and Grammy nods) to come the very next year, this time for his songwriting talents on the track "Look What Love Has Done." "It was totally amazing and freaked us all out," he recalls in awe. "It has been a major blessing. You can't write this script." Humble words from the man who never fancied himself a singer until Quincy Jones asked him to sing on his landmark album, "The Dude."
"Quincy called the house one day," recalls Debra Ingram, who has been married to James for over 40 years, "and said 'This is Quincy Jones. May I speak to James Ingram?' James and Howard Hewitt were in his room writing and recording a demo, and I went to the door and knocked and said 'Honey, come out — you have a call.' And Q asked him, 'Is this the guy who did the demo for 'Just Once'? I want you to come in and sing.' Well, James' response was, 'You mean play keyboard. I'm not a singer.'" Thinking it couldn't possibly be true, Ingram decided one of his bandmates was playing a joke on him and hung up. Luckily — for all of us — Q called back.
"When I came out here, I was not a singer," Ingram explains. "I came out here with my band, and I was not the singer — I was the piano player." Ingram and his band had moved from Akron, Ohio, to Los Angeles to seek fame and fortune, and, in the meantime, Ingram landed side gigs playing piano for the greats, from Marvin Gaye to Dick Clark. So no one, James especially, could have ever imagined Quincy Jones would call one day with that invitation. "My first recording session with Q, I kept trying to clear my voice, and he asked me, 'Why do you keep stopping?' I told him I was trying to clear the roughness out of my voice, and he said, 'That is your sound.' I never tried to clear it again," Ingram laughs. "If it wasn't for him, I wouldn't be a singer." With one of the most powerful, emotional and soulful voices in music, it's impossible to comprehend that Ingram never thought he was much of a singer.
So there he was, 28 years old and just starting his singing career. Starting with Quincy Jones behind the board. Starting with his first live concert performance in front of 5 million people at the Grammy Awards. Starting with three Grammy nominations and one trophy in his hands by the end of the night. It all happened so fast that Ingram held onto his day job for a while, playing keyboards for Dick Clark's television show until one day Clark came up to him holding a copy of Quincy Jones' album, asking if it really was him singing on those tracks.
Those tracks turned out to be the massive hit singles "Just Once" and "One Hundred Ways." By the time Ingram released his own solo album, he was dominating the charts with smashes, including "Yah Mo B There," "Party Animal," "How Do You Keep the Music Playing?" "There's No Easy Way," "Always," "It's Real," "Where Did My Heart Go?" and the no. 1s "I Don't Have the Heart" and "Baby, Come to Me" (with Patti Austin). Ingram also made his debut on the Oscar stage, performing his Grammy Award-winning single "Somewhere Out There" (which was written by his friends Barry Mann and Cynthia Weil — along with James Horner).
Still not completely convinced he was meant to be a singer, Ingram continued to work on songwriting, arranging and producing projects, ironically bringing him back to Quincy Jones at one point. "When I first got with Quincy, he did not know that I could write," explains Ingram. "He sent seven people to go and write a song for Michael Jackson titled "PYT," and as soon as he heard my version, he said, 'We are cutting this tomorrow.'" The song, recorded for Jackson's epic "Thriller" album, became a worldwide smash and remains one of Jackson's most popular hits to this day.
Ingram went on to work behind the scenes with Donna Summer, Carole Bayer Sager (together they wrote his Oscar-nominated "Look What Love Has Done"), the award-winning "Chariots of Fire" soundtrack, George Benson, The Pointer Sisters, George Duke, Monica, Dionne Warwick and Thom Bell, one of the architects of the Philadelphia Sound. In fact, Ingram is credited with being a rare co-producer to Bell when the two worked on "I Don't Have the Heart." And then Debbie Allen called. She was working on a series of children's dance productions for the famed Kennedy Center in Washington, D.C., and wanted to collaborate with Ingram.
"Debbie Allen opened up another side of my brain for approaching music," says Ingram, with deep appreciation. "I didn't have to concentrate on making a hit song, just great music helping a play tell a story." Together, they created several acclaimed shows for the Kennedy Center, and it left an indelible mark on Ingram and his creative process.
But make no mistake, Ingram has grown to love his role as singer and the man who takes center stage. Fans adore his voice, his songs and the memories that are stirred up every time they hear both. "I've been told by men that my music has helped in relationships with women and how uplifting it has been to them and their families," he says with a warm smile. And it's that voice that has brought him to share the stage throughout his career with other Soul Train Cruise acts like Frankie Beverly and Maze, Gladys Knight, Marilyn McCoo and Billy Davis, Jr., and dear friend Valerie Simpson. It's the voice that led him to "Soul Train." "It was our one Saturday morning show," he says, "where black artists could be showcased with their music and have the audience dancing. It was so exciting. Don Cornelius was one of the most encouraging and giving persons," Ingram continues. "Me and my wife have very fond memories of him and George Duke. It was a privilege to appear on the 'Soul Train' show after watching it for many years as a youth. And to get to do your own music on the show was an incredible feeling."
Now that James Ingram is joining Soul Train once again, this time as it sails on the high seas, he has just one question left to ask: "What took so long?" he asks with a laugh.
Cabins remain on Soul Train Cruise 2015, which features James Ingram. Learn more and make your reservation.