Feel Like We're Going to a Go-Go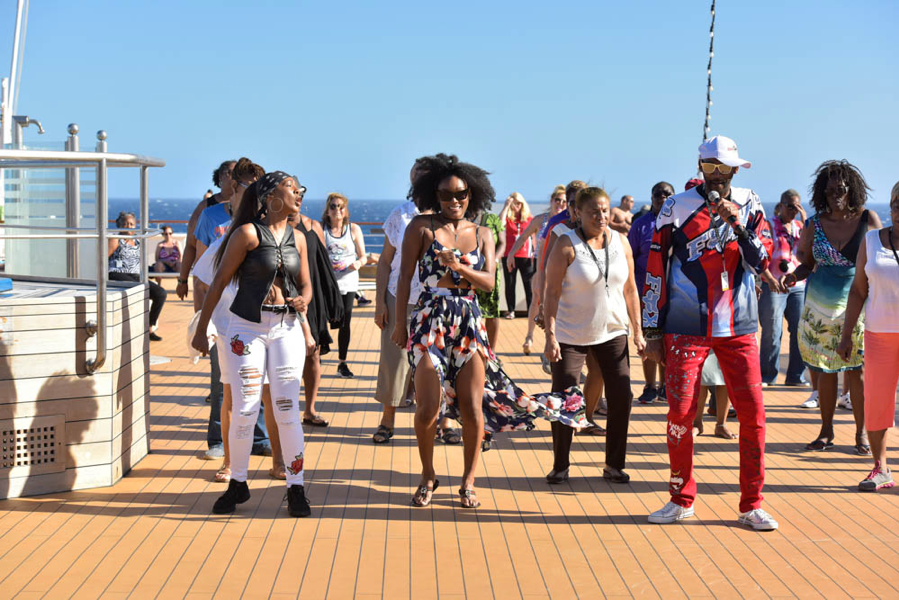 It wasn't just the music that brought us back to Soul Train every Saturday. It wasn't just the superstars who dropped by to perform each week. Or the power of Don Cornelius, who launched a thousand careers and inspired millions of young lives. When all of those things came together onto one Soul Train stage, there was one thing we couldn't stop thinking about long after the show ended: those Soul Train Dancers
We never took our eyes off of them, except when we got up to try and copy their moves. Their outfits changed the way we dressed when it was time to hit the clubs. And the Soul Train Line? Well, that changed all of our lives forever.
And so when we planned the very Soul Train Cruise, we knew it wouldn't be complete without some of the iconic dancers onboard with us. Over the years, Derek Fleming, Monique "Mo Que" Chambers and Cheryl Song have joined fans and shared the secrets to their moves aboard the ship. They remind all of us of the legacy those young, talented kids have left on generations.
Check out these great moves from some of our Soul Train Cruise guests!
Speaking of talent, we all know that Don Cornelius had a gift for spotting singers and musicians on the rise. But did you know he also opened the door for a lot of dancers as well?
The first time Nick Cannon ever appeared on television was when he took to the stage as a Soul train Dancer.
Rosie Perez was plucked from a Los Angeles nightclub and invited to join Soul Train, where a record label exec spotted her and asked her to come up with some moves for Bobby Brown. She went on to create choreography for LL Cool J, Heavy D, Diana Ross and the Fly Girls (including a young dancer named Jennifer Lopez) on "In Living Color."
Jodi Watley and Jeffrey Daniel met on the Soul Train set, launching their music career as Shalimar.
Jermaine Stewart was another multi-talented Soul Train Dancer, making his way from the dance floor to the microphone.
Carmen Electra was still a teenager when she first started on Soul Train.
And Fred "Rerun" Perry took his dance moves from the Soul Train set into "What's Happening."
Come sing along, watch the greatest R&B performers, but also show us your moves and dance with us on the 2019 Soul Train Cruise!