A word with the Commodores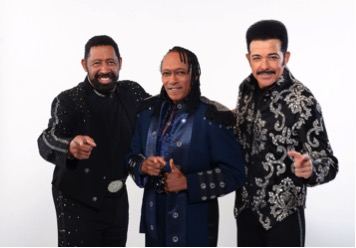 R&B legends The Commodores had such a great time on the Soul Train Cruise back in 2014 that they're coming back to celebrate our 5 th Anniversary! We are blessed they'll be joining us for the 2017 Soul Train Cruise, bringing old-school funk and everlasting romance to the ship as is sails through one of the most beautiful places on the planet.
We spoke with Walter "Clyde" Orange last week, who told us all about the concerts he saw on the 2014 cruise, the new friends he made, the good times he had with the superstars he's known for most of his life and how he's ready to "Sail On" all over again.
"We had fun," says Walter "Clyde" Orange, remembering the first time The Commodores stepped aboard the Soul Train Cruise back in 2014. "We enjoyed it the very first time. We also had fun watching the other artists," he continues. "It's an honor to be called back to do it again because Soul Train is a part of our heritage. This is a blessing and I am looking forward to it."
That heritage Clyde speaks so warmly about has been a driving force of The Commodores for over 46 years. When they first met in Tuskegee back in 1969, they were a group of young, ambitious and unbelievably talented young men who were determined to make it big. "We were striving towards whatever it would take to make it in this industry," he says with the same determination in his voice today that he had back then. "We were willing to do it."
"You have your peaks and you have your valleys and that period that you go through wondering are we ever going to make it big," Clyde says, revealing the group's secret to nearly five decades of success. "But at the top of the list and how we created a bond between us is by caring about yourself. That helps you to get along with others and care about others. And that's what this group is really about - caring about other people and their lives." "So we used that as a base and we kind of structured our music to uplift people around the world," he continues. "I thank the lord that we were thinking that way and dedicated our music that way." With this mission, and a pledge to stay away from the drugs they watched claim many of their peers, The Commodores knew they couldn't fail.
At first, the dream of hit songs, worldwide tours and shelves full of awards seemed like such a daunting one. "The only thing that we could foresee was us being together," Clyde explains. "Just being here today, our dream has come true because my thinking was that this is going to last forever. Groups don't stay together. You have personnel problems, you have health issues (Milan Williams, our originally keyboard player passed away a few years ago). But, yeah, we thought we would be together forever."
Grounded in a heritage of respect and hard work that their parents instilled in them, the gentlemen of The Commodores then set about writing music, not knowing it would forever change the sound of American culture. And the song that started it all, well, it almost never happened.
"We came up with the track when our first producer, James Carmichael, came to Tuskegee from LA to work with us. He said, 'You know, we need a song like the Ohio Players' 'Fire.'" A song with a groove so deep that bodies start moving before the brain even notices. A song that defines a group. A song that lives on for generations.
"So we started doodling around in the studio," Clyde recounts. "I was grinding on the drums and Ron (Ronald LaPread) got on the bass and Milan on the keyboards and all of a sudden Ron came up with this boom, boom-boom, boom-boom-boom, and Carmichael said 'Yeah, yeah, that's it!' But Ronald didn't know what he had played," Clyde laughs. "When he first played it, it was just an idea going through his head and his fingers doing the walking up and down the neck on that bass. It took us about two hours to get back that pattern back! That was how it was born and we cut the track we in the studio on the night of my birthday, December 10. That's one thing I will never forget."
But it turns out that the story behind "Brick House" had only just begun. "After we created the music we went home for Christmas and I came up with the title, "Brick House" and the words just began to flow. This was back in the 70s when CB radios were a big thing and I was a ham radio operator, learning morse code and sending morse code and I spent a lot of time sitting in between those two CB radios communicating with people around the world. So one day, I sat there with two tape recorders and I took the music that had no words and I wrote the song sitting right there between those two CB radios."
Knowing he had something special on his hands, Clyde returned to the studio in Los Angeles with his bandmates after Christmas break to finish recording their debut album. "We listened to all of the tracks we had recorded before the break: only music, there were no words to any of the songs yet and when it came to listening to Brick House, we gave it a thumbs down. Everybody was in agreement with the exception of one person – Milan Williams. It broke my heart, so I didn't say anything. I just wanted to cry because I knew I had some good words for the song." Undaunted, Clyde went to the studio's assistant engineer, Jane Clark, and poured his heart out. It turns out she liked the song, and reminded Clyde that he could use the studio even when the rest of the band wasn't there. So one day, he came in early and recorded the vocals for the track. "Long story short, what you hear is what I did – it was just she and I in that studio."
"Now, at 6:00 that very same day, our producer James Carmichael walked in. When he walked in, I said 'Oh goodness, I didn't ask him if I could come in the studio,' and was worried I would get in trouble. But then he listened to the track and all the while I'm thinking 'I am in trouble here today.' After the song finished, he said, 'Brother Clyde, come in for a minute. I think you got yourself a hit. I really think you got yourself a hit.' I almost fainted. So that's how 'Brick House' came about. It's now our signature song," he laughs at what is undoubtedly one of his favorite memories.
"Brick House" opened up the floodgates for a deluge of hits to come pouring through. "Easy," "Just to Be Close To You," "Lady (You Bring Me Up)," "Night Shift," "Oh No," "Sail On," "Sweet Love," "Still" and so many more followed, bringing gold records and multiple GRAMMY nominations to the young men from Tuskegee.
"Our hopes were really, really high," says Clyde, "but thanks glory be to God and with him keeping his hands on us, keeping us together, we made it through." "Everyone doesn't get an opportunity like this and know how to take it and really use it and not abuse it. We know this is a blessing."
"This is all we want to do," he continues, "and we're going to do it for as long as we can do it until we can't do it no more. This is all I know how to do," he adds with a chuckle. "But now age is catching up," he laughs. "I can't jump 10 feet high anymore, only six. But for as long as we can do this and that we are blessed to do it we'll be doing it."
Generations of fans are grateful that making great R&B music is all that Clyde Orange can do and all of us here at the 411 are excited that he'll be doing it on the upcoming Soul Train Cruise. The cruise reunites the Commodores with so many of their fans and longtime friends that they've shared the stage with throughout their career. But it also brings the Commodores back together with the spirit of Soul Train.
"It meant everything, so much to me as an individual, so much to us as The Commodores," Clyde says about the iconic television series. "For us to be a part of the Soul Train family, to be asked to do this cruise again, oh my goodness, it doesn't get any bigger than Soul Train in my view. Soul Train is everything."
"To keep Soul Train alive and to bring back the artists that performed back in the day to make them a part of this adventure is like winning a GRAMMY, and Oscar, anyone of those high awards. Soul Train is number one because that is all we have to relate to; there's nothing like being black and proud and Soul Train. It's all about Souuuuul!"