Ports of Call
Luxury destinations
Explore our ports of call, where you can walk, shop, and dine in Caribbean paradises!

Ft. Lauderdale, FL
There is an abundance of things to see and do in the Fort Lauderdale area: visit the newly redesigned Fort Lauderdale Beach and cafes, stroll the historic Riverwalk, shop the luxurious stores on Las Olas Boulevard or venture to the Everglades for an intriguing air boat excursion.
---

Philipsburg, St. Maarten
This Leeward island has been famously bisected into French and Dutch territories since 1648, and is referred to both as Saint Martin and Sint Maarten. In their respective capitals—Marigot and Philipsburg—there are ancient stone forts and candy-colored buildings lining winding streets. The Dutch side has a slightly larger population but is a bit smaller, at 34 square kilometers (13 square miles), versus the 53-square-kilometer (20-square-mile) Saint Martin.
Named for its founder John Philips, Philipsburg, the capital of the Dutch side, has some excellent international art galleries, thumping discos and popular casinos. Farther afield are beautiful beaches and a seemingly endless array of nature conservancies. With them come extensive opportunities for adventure—hiking, biking and zip lining—and amazing wildlife sightings in the sea, on land and in the sky.
On the French side, there are cafés serving café au lait and pain au chocolat and sidewalk bistros offering chilled rosé and savory crepes. A variety of luxury shops and cosmopolitan boutiques beckon to sophisticated shoppers who love a good bargain—the entire island has no sales tax.
---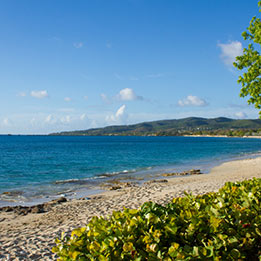 Frederiksted, St. Croix
It's one of the three isles that make up the U.S. Virgin Islands, and though St. Croix is the largest—measuring 218 square kilometers (84 square miles)—it's the least visited of the trio. Perhaps that's because much of the island has been set aside as parkland, which means fewer tourist hubs and more space dedicated to natural wonders, including pristine beaches and primo snorkeling and diving. But St. Croix also boasts many excellent historical sites. At various times it was controlled by Spain, Britain, France, the Netherlands and Denmark; the latter's influence is the most visible in the architecture of St. Croix's charming capital city of Christiansted, on the northern coast. Frederiksted, on the western point of the island, is a busy port surrounded by some significant colonial attractions, with a restored sugar estate and an 18th-century fort being among the most noteworthy. Here you'll also find a family-run rum distillery and many restaurants and shops.
---

Half Moon Cay
The Caribbean is full of tropical wonders. But there's nothing like Half Moon Cay, Holland America Line's 2,400-acre private island paradise in the Bahamas. The most authentic, highest-rated private-island experience in the region, Half Moon Cay has won Porthole Cruise Magazine's Best Private Island award 17 consecutive years, and was also named the best in Travel Weekly's Readers' Choice Awards. One visit and it's easy to see why guests wish they could stay here forever. Uncrowded and unspoiled, it combines the unparalleled natural beauty of a protected preserve with access to a wide range of amenities and activities. With miles of pristine, white-sand beach, guests can stay busy all day or simply luxuriate in tranquil solitude. Holland America Line acquired this beautiful island more than 20 years ago to create a unique and memorable experience for our Caribbean cruise guests.