Ports of Call
Luxury destinations
Explore our ports of call, where you can walk, shop, and dine in Caribbean paradises!

Ft. Lauderdale, FL
There is an abundance of things to see and do in the Fort Lauderdale area: visit the newly redesigned Fort Lauderdale Beach and cafes, stroll the historic Riverwalk, shop the luxurious stores on Las Olas Boulevard or venture to the Everglades for an intriguing air boat excursion.
---

Grand Turk
Cruise to Turks and Caicos and experience the sugar-white sand, brilliant blue waters, and the kaleidoscopic sea life that is plentiful in the Caribbean paradise. Without hyperbole, this is one of the world's most photogenic spots. T&C, as it is sometimes called, is the ultimate fantasy-island destination—the screen saver in all its glorious reality.
Grand Turk, a jewel of an isle that measures just 18 square kilometers (seven square miles), is awesomely rich in natural wonders. Ringed by translucent warm waters teeming with coral and fish, this Turks and Caicos cruise is a bonanza for divers, snorkelers and anglers. Of course you can always simply kick back and just enjoy the view from under a palm tree. Or explore the fascinating history of Turks & Caicos in its capital, Cockburn Town, lined with Bermudan-style buildings from the 18th and 19th centuries. Regardless, your cruise to Turks and Caicos will be relaxing, enjoyable and truly memorable.
---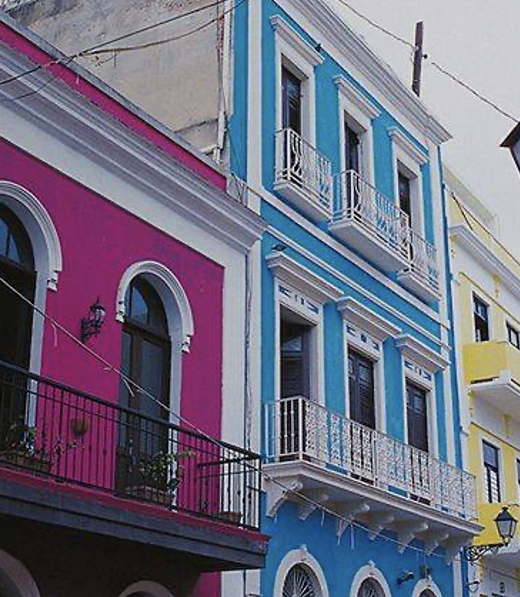 San Juan, Puerto Rico
Puerto Rico is one of the largest islands in the Eastern Caribbean. Discover the classic signs of a vacationer's paradise: gorgeous landscape with lush green mountains, underground caves, balmy waters, white-sandy beaches, delicious rum drinks and so much more. Spend an afternoon snorkeling during your cruise to Puerto Rico and discover the beautiful marine life of the Caribbean Sea while swimming among the fish, coral communities, mangrove forests, and seagrass beds. Or take an evening sail around Old San Juan for amazing views of the 500-year-old walled city as the sun casts gorgeous light on the turquoise waters.
---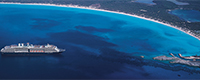 Half Moon Cay, Bahamas
The Caribbean is full of tropical wonders and natural beauty. But there's nothing like Half Moon Cay, our pristine private island paradise in the Bahamas. Cruise to the Bahamas with Holland America Line and discover the most stunning, highest-rated private-island experience in the region, Half Moon Cay. This island has won Porthole Cruise Magazine's Best Private Island award 17 consecutive years, and was also named the best in Travel Weekly's Readers' Choice Awards. As soon as your toes touch that powdery white sand and your eyes settle on the perfect blue-crystal clear water, you'll understand why this island is one of the most sought out destinations. Whether you are planning a romantic getaway or a family vacation, book a Bahamas cruise and explore Half Moon Cay's beautiful beaches, exciting cruise excursions, exclusive beach cabanas and more.
---