The Countdown Continues… A Letter From Executive Producer, Michael Mitchell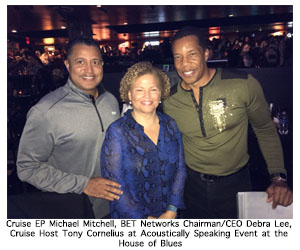 Well we are only 4 months away from the 2017 Soul Train Cruise's 5th Anniversary sailing.
It will be another incredible week of fun, sun, getting together with old friends, making new friends, visiting beautiful locals and of course the MUSIC! Enjoy the opportunity to not only see some of the greats of classic R&B perform in intimate settings, but to hear about their journeys. Make sure and book your cabin now, if you have not already done so, as we only have a few remaining. Don't miss out on the musical experience of a lifetime!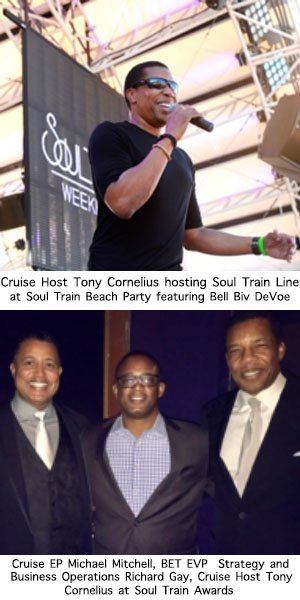 Cruise host Tony Cornelius and I are excited to have several of our good friends, Robert "Kool" Bell, Chaka Khan, J.D. Nichols of The Commodores, Nile Rodgers, William King, Walter Orange, , Peabody Bryson as well as all the other wonderful performers such as The SOS Band, Midnight Star, Alexander O'Neal, Cherrelle, Thelma Houston, Sounds of Blackness, Third World, Harold Melvin's' Blue Notes, The Intruders, and Melba Moore joining us on "The Hippest Trip At Sea." We are just as excited to see all of you, our cruisers. If you have been with us for several cruises, we look forward to seeing you again. If this is your first Soul Train Cruise, you are in for a treat, and we look forward to meeting you! We are currently in the process of lining up our cruise theme nights and working on our on-board programming and events and we promise to deliver a stellar experience with some surprises in store.
In this newsletter we were able to catch up with none other than the incredible Nile Rodgers, who has had a career that spans over 50 years that began with Chic and continues with his recent success working with Daft Punk and Pharell Williams.
On another note, Tony Cornelius and I had the pleasure of attending the 2016 BET Soul Train Music Weekend Fest, November 3 – 6, in Las Vegas. It was wonderful to see the incredible Soul Train Legacy celebrated, as BET hosted this year's expanded festival. The 4 day weekend of events took over the Mandalay Bay Hotel for the first time ever. The weekend's festivities began with Acoustically Speaking with Monica and Tank Thursday Night, The Soul & Greens Charity Event Friday afternoon, The Soul Train Music Fest with Jill Scott, Tyrese and Anthony Hamilton Friday night, The Soul Train Day Party with Bell Biv DeVoe Saturday afternoon, The Comedy Get Down with Cedric The Entertainer, Eddie Griffin, D.L. Hugely and George Lopez Saturday night and culminated with the Centric Soul Train Award Show itself Sunday night at the Orleans Arena. The Soul Train Award show airs on BET and Centric Sunday 11/27 at 8:00 PM Eastern Time.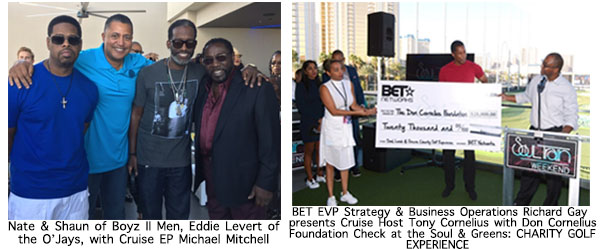 Tony Cornelius was part of the weekend carrying on his father Don Cornelius' legacy as he hosted The Soul & Greens: A CHARITY GOLF EXPERIENCE Friday afternoon at Top Golf Las Vegas with BET Executive Vice President Richard Gay and BET President of Broadcast Media Sales Louis Carr. All proceeds benefited the Don Cornelius Foundation, created by Tony after his father Don Cornelius committed suicide in 2012. A host of celebrities turned out to support Tony and enjoyed music, food and beverages but also gained insight on the stigmatized topic. He also hosted the "Soul Train Line" Saturday afternoon at the Soul Train Day Beach party prior to the Bell Biv DeVoe performance and Friday night when he introduced Jill Scott's performance and welcomed the audience at the Soul Train Music Festival featuring Jill Scott, Tyrese and Anthony Hamilton. Make sure you tune in to The Soul Train Award show on November 27th.
Enjoy Thanksgiving with your friends and family, we'll be together during our own Soul Train Cruise family reunion before we know it.
As always, wishing you Love, Peace and Soul!
Michael Mitchell,
Soul Train Cruise Executive Producer