SOUL TRAIN: The Hippest Trip on Broadway!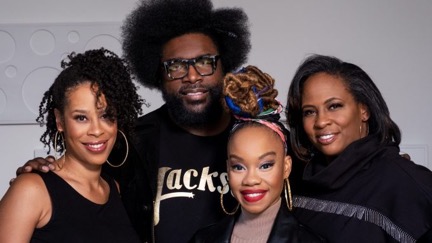 Dominique Morisseau, Ahmir Questlove Thompson, Camille A. Brown, Kamilah Forbes
Photo by Nicola-Goode
We found out earlier this month that Soul Train is headed to Broadway! A new production will premiere in 2021 – during the 50th anniversary of our favorite show – and will bring more than 20 iconic R&B songs to the stage.
Executive Producers Ahmir "Questlove" Thompson, Tony Cornelius, "CSI" creator Anthony E. Zuiker, Live Nation Urban President Shawn Gee and Devin Keudell are working with Co-Producer Nick Stern and Producers Matthew Weaver, Jeffrey Tick and Richard Gay to tell the story of Don Cornelius and his legacy.
Kamilah Forbes ("Meet Vera Stark") will direct the project, featuring a book by Dominique Morisseau ("Ain't Too Proud") and choreography by Camille A. Brown ("Choir Boy").
"I am so excited to help bring the narrative of one of our culture's most influential and legend-making endeavors to the stage," Morisseau says. "Having grown up on this series and being immersed in the culture around it, I never knew what it took to make it the iconic staple that it is.
"Through the sociopolitical challenges both internally and externally, Don Cornelius' uncompromised vision, and the revolutionary dance culture that the show made visible to the mainstream, there are a million handprints on what we know as 'Soul Train,'" she continues. "I cannot wait to partner with this legendary creative team of incredible women to celebrate the history and the unsung heroes of our nation's longest running televised music and dance series."
"For 37 years, and with purpose, through music, dance and style, 'Soul Train' brought Love, Peace & Soul to a national audience," Tony Cornelius adds. "Honoring his accomplishments, creative vision and legacy with a Broadway musical only emphasizes the impact 'Soul Train' has had on our American fabric."