Soul Train Cruise Exclusive Interview
CRUISE HOST TONY CORNELIUS AND THE ICONIC SMOKEY ROBINSON TALK CRUISE, BASKETBALL, ARETHA AND MORE!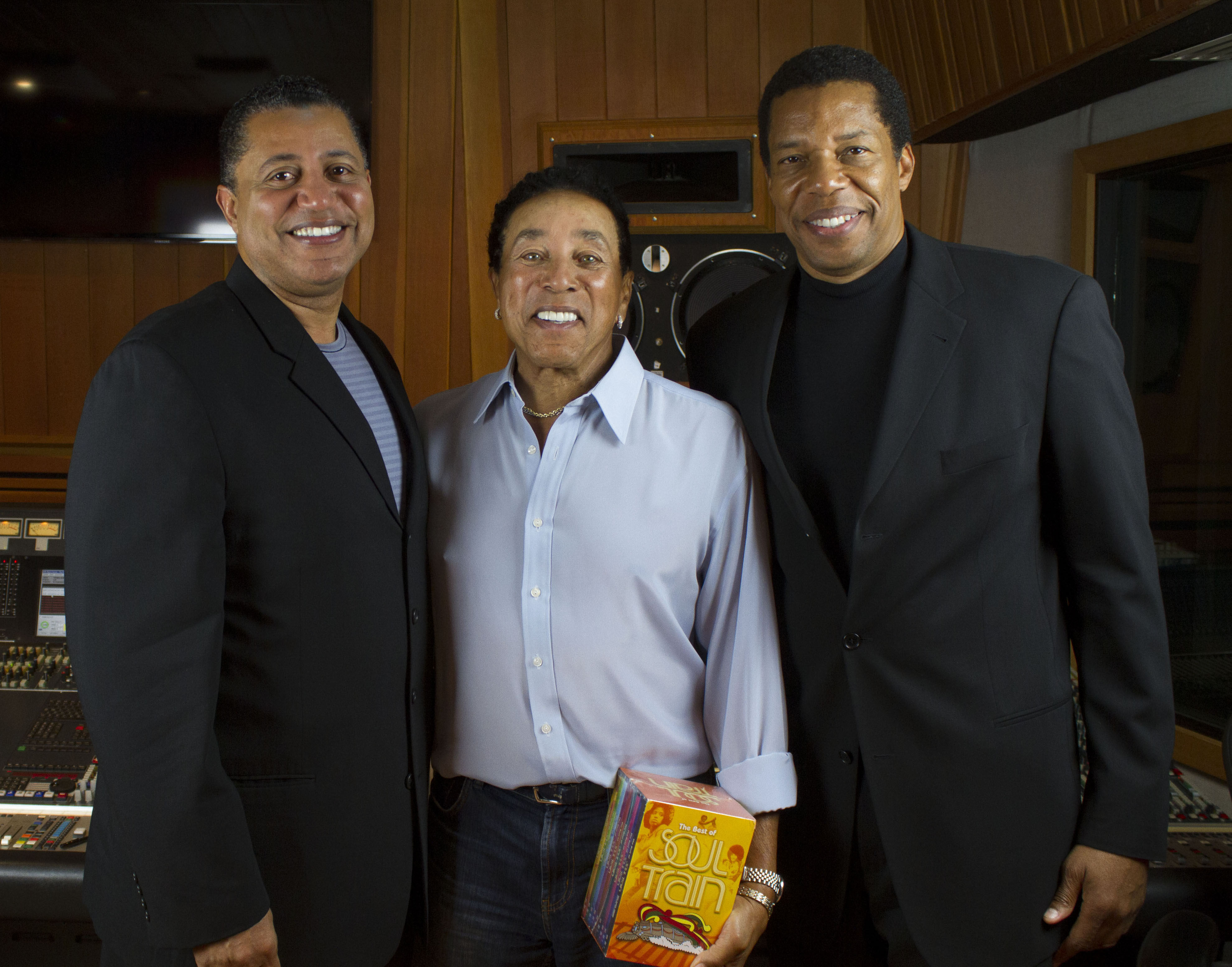 Smokey and Soul Train: two of the biggest and most celebrated names in American entertainment. Ever wondered what might happen if Smokey Robinson ever sat down to chat with Tony Cornelius about the Soul Train Cruise, basketball, Aretha and more? Well, you're in luck. The 411 was blessed to be there when the longtime friends met up in Los Angeles recently.
Tony Cornelius:
I am so excited that you're here. I mean it's just unbelievable that I'm sitting with you talking to you after all these years and that you'll be a part of the Soul Train Cruise.
Smokey Robinson:
Well I'm excited too, man, I'm looking forward to it. Soul Train is such a part of my life and your dad and all that and you. Are you going to be there? You going to take your clubs? 'Cause I want you bad (laughs).
Tony Cornelius:
Interestingly enough, were going to have some of our good friends there. The O'Jays, The Whispers, Stephanie Mills.
Smokey Robinson:
Oh great!
Tony Cornelius:
Sheila E, Howard Hewett.
Smokey Robinson:
You know Eddie plays (golf), too, Eddie Levert, so let's get it on man.
I see Eddie a lot. To be around in this business especially for a long time, is a blessing. And we talk about that - Eddie and I talk about that - all the time because as long as we've been doing this and to still be around and be able to do this is a blessin. You can't beat living a life doing something you love and earning a living at it.
Tony Cornelius:
On the Soul Train Cruise…we get involved in the Scramble Board, we get involved in the Soul Train Line, we get involved in the costume party. I want to make sure you're involved in all of that. You think you'd be involved in those kinds of things?
Smokey Robinson:
I would love that, man. I used to love doing the show. Let me ask you another question, you gonna have some guys in big 'fros on?
Tony Cornelius:
(Laughing) Big 'fros, bell bottoms. I mean we do it all, we really do it all.
Smokey Robinson:
All right. That sounds fun
Tony Cornelius:
One particular thing that I always wanted to ask you about: You refereed a game between my father and Marvin Gaye. And unfortunately, my father lost. I got the hardest time from the guys back in Chicago and I wanted you to explain to me exactly how that happened.
Smokey Robinson:
Well, see, Marvin always considered himself an athlete. He thought he was an athlete before he was an entertainer. So he tried everything. Marvin at one point had gone out for the Detroit Lions. Did you know that?
But anyway, he challenged your dad to a basketball game. And your dad thought he was an athlete, too, so they had this basketball game on the show and I was the referee and here they are playing. And I was looking at them and I actually could have beat both of them if they had played together (laughs). It was a fun game, man, but alas, your dad did lose.
And I know you wanted to play Marvin out there.
Tony Cornelius:
I really did. I wanted to get to him after he beat my father like that.
Smokey, I heard that you and Aretha lived in the same neighborhood, is that true?
Smokey Robinson:
Yes we did, right around the corner from each other. I've known Aretha since she was probably six.
Tony Cornelius:
There was a performance that you and Aretha did on the show that was fantastic. It felt like it was ad-libbed but you guys just kind of put it together all at the same time. How does that happen?
Smokey Robinson:
Well it was ad-libbed because - first of all, Aretha and I have known each other since we were kids, all of our lives - and she's a prolific musician and singer. So she was on the show one time, on Soul Train, and your dad had us come over. And she played the piano and I sang "Ooh Baby Baby" together, which is a thrill. I've sung with her many times and it's always a joy to be with her because she's my baby. Aretha is my longest friend in life right now.
Tony Cornelius:
Your songwriting ability and your talent when it comes to the thought process…explain to us what that is and what that takes. What does it really take to be a songwriter?
Smokey Robinson:
Well, Tony I think that for me, I'm a life watcher and I just watch life. All the things that I've written about as a poet or a songwriter, I could not possibly have experienced all of that stuff. But I look at life. So I try to write about life. I try to write about things that are significant to people. And if I can possibly say it differently, I want to do that, too. "I love you" has been said trillions of times. If I can say that you to in a different way and you know that I'm saying I love you, I want to do it like that. So that's how I approach it.
Every era is different and every era has its place. And the kids who are coming along now, they live a totally different life coming up than I did. They live a totally different life than I do right now. But they're living their lives and so they're scoping their lives and their scoping the stuff that's going all around. I tell people all the time (who) say "oh rap is this and rap is negative" - no it's not. Rap is just street poetry. It's what these kids know, it's what they've lived, it's how they've grown up, and so on.
So the kids are writing what they know and what they feel and how they see it so I can't knock them for it because I think every era of people does the same thing.
Tony Cornelius:
Now when it comes to hearing your song being re-recorded, how do you feel about that?
Smokey Robinson:
As far as the young people sampling your music and sampling your songs? Sample all of mine, please, sample every song I've ever made or ever written in my life because if you sample it that means that it had an impact on your life in some kind of way. There are millions and millions and millions and millions of songs. Out of those millions and millions and millions and millions of songs you chose one of mine. And you put it in your record. You attached it to your song, which means that it had some kind of positive effect on you and your life and your surroundings. That makes me happy. Sample all of mine. Please. That's how I feel about it.
Tony Cornelius:
Smokey one more thing I want to ask before we leave. The Soul Train Cruise family wants to know what you plan to do and I want to ask you right now here and now what can we expect from you.
Smokey Robinson:
Tony you can expect everything, man, because I'm not one of those artists who comes and says, "well I don't want to sing any of the old material," because I always look at it as if it weren't for the old material there would be no new material. We play everything, man. We play all the old songs, all the in-between songs, all the new songs. We play everything.
Tony, I perform for 2 ½ hours, man, 2 hours at minimum. And we play everything. And it gives me more joy than any other thing that I can think of. I love music, I love the music world, I love being in the studio, I love writing, I love all that – but my favorite thing is performing. So I still do it.
You know why? Because I go and I get a chance to one-on-one with the people. I get a chance to see the people and the fans. When we come, we don't just do the show. The people do the show, too. Their singing and we're having a party. And it kills me when people come backstage after the show and say 'hey, okay Smokey…' ('cause they think when you're in show business all you do is party and sing)…"okay, Smokey, where's the party?" I just had the party. That was it. That was the party for me. And I go on and get the chance to be with these people and get to see their reaction and react to them and I love it. The show is not the same every night 'cause there are lots of songs I want to get to and some people are yelling out songs and it's just a party, man, it's just a love fest. And I'm looking forward to it.