Message from Executive Producer Michael Mitchell
THE 2016 SOUL TRAIN CRUISE IS SOLD OUT!
We are six months out from the 2016 Soul Train Cruise sailing, and I am excited to say that we are OFFICIALLY SOLD OUT!
Is it the new exciting line-up featuring Smokey Robinson, The O-Jays, Stephanie Mills, The Whispers, Billy Ocean and a host of other classic R&B superstars? Is it the dynamic new ship, the Celebrity Constellation and the exciting new ports of call? Is it the yearly R&B family reunion on the Hippest Trip At Sea?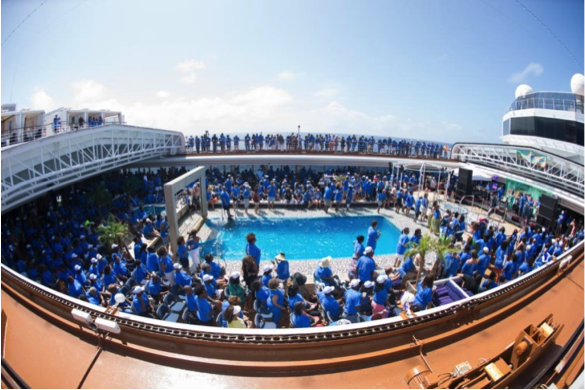 Well, it is a little of each of these elements, but the real reason we sold out so early as we head into our 5th sailing, is YOU! Our cruisers have shown an endless dedication to and support of the Soul Train Cruise. Our vision for this cruise has been unwavering, to create an onboard experience that would capture the fun, energy, excitement and comradery of that weekly Soul Train encounter. And, just as Don Cornelius did, we bring you the best in R&B music, but with the added twist of being on the high seas and allowing you all to interact with, even rub elbows if you will, with these music superstars.
I would especially like to thank,
Tony Cornelius, our host, and son of Soul Train Creator and impresario Don Cornelius, who has been with us since the beginning and brought Don Cornelius' legacy to the Soul Train Cruise;
Our Soul Train Cruise Marketing team, especially, Jenn Smith and Janine Morris;
All of the StarVista LIVE team for the tremendous job they do with reservations, on board logistics, production, travel and customer service;
Soul Train Holdings and Centric Television, our media partner for their support and belief in the Soul Train Cruise.
If you are already booked, stay tuned for some very exciting announcements on several special on board activities and celebrity excursion's that you will not want to miss.
Did you miss the boat on this year's cruise? Be sure to sign up for our newsletter so you can be the first to hear about the 2017 cruise!
As always, wishing you Love, Peace and Soul!
Michael Mitchell
Soul Train Cruise Executive Producer