Challenges and Changes: Nothing Stopped Rose Royce and Freddie Jackson On Their Way To The Top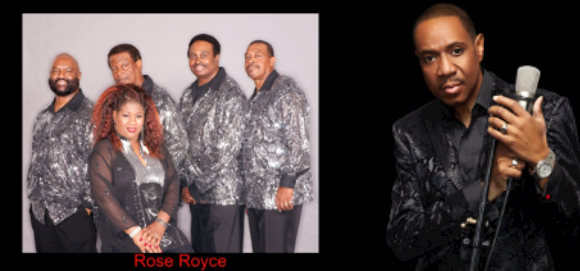 We hope you'll enjoy watching our recent interviews with Rose Royce and Freddie Jackson. We're humbled by their talent and work ethic, which got us wondering about what kind of changes and challenges they encountered along their road to success. So, we did a little digging and found a few moments in their careers where they stood at the crossroads, adapted to what life presented to them and headed off into a new - and better - direction. Their journeys continue to inspire us to stay strong and give us the will to adapt to whatever life throws our way.
Rose Royce was hard at work on their debut album when they were offered to record the soundtrack to a new film, "Car Wash." They quickly shifted gears and ended up writing so many songs for the movie that they released a double album, winning a GRAMMY Award and delivering three Top 10 R&B hits.
Making that album wasn't easy. Kenny Copeland of Rose Royce likens the recording sessions to boot camp, taking six months to complete. But they persevered, determined for the album to become a hit even if the movie didn't.
During those sessions, Kenny found himself with a decision to make. Producer/mentor Norman Whitfield insisted Kenny sing "I Wanna Get Next to You" instead of playing his trumpet. He never gave up during that entire month they spent in the studio getting it just right, and we wouldn't want it any other way.
And Miles Gregory took life-changing heartbreak and adapted it into one of the most emotional songs in R&B history when his wife left a break-up note with the words "Love Don't Live Here Anymore."
Freddie Jackson's journey to success took him down paths that veered off from the gospel he learned in a Harlem church to funk and then R&B. Embracing all of those sounds made such sweet music that the US Library of Congress decided to include "You Are My Lady" in its vaults and the Smithsonian National Museum of African American History and Culture inscribed Freddie's name on a wall paying tribute to the greatest African American singers.
When he hit big with songs like "Rock Me Tonight," Freddie suddenly found himself up against fabricated rumors of a rivalry with Luther Vandross. Instead of letting the haters get to him, Freddie befriended Luther and the two forged a strong bond.
But it is Freddie's health that brought the biggest change in his life. After a warning from his doctor, Freddie completely altered his diet, started exercising and essentially saved his own life. He remains committed to his healthy lifestyle to this day.