BK Kirkland Creates Our Own Personal Soul Train Cruise 2018 Playlist from The Groove and Soul Town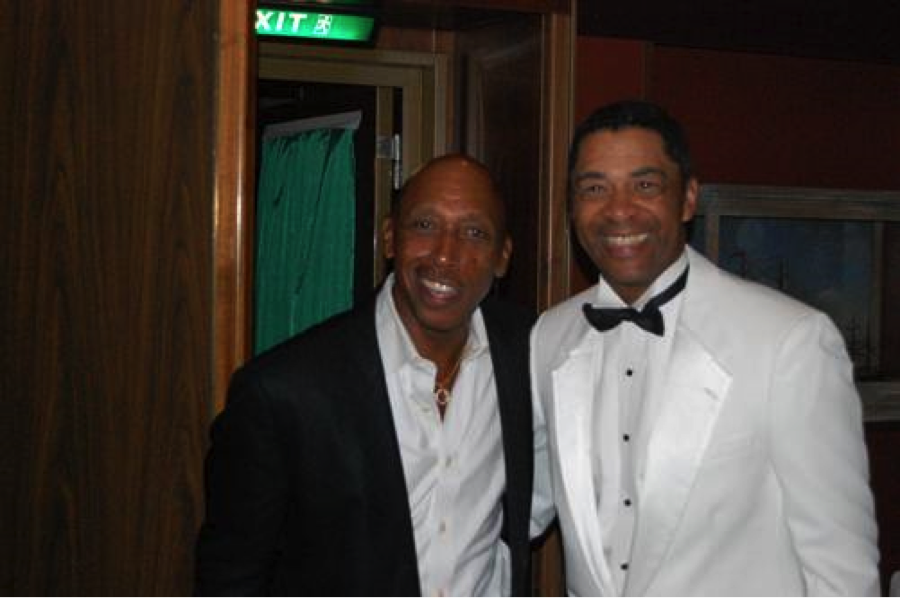 Jeffrey Osborne (left) with BK Kirkland
With less than 4 months until we start dancing down the Soul Train line, I'm getting my groove on and created a playlist of some of my favorite songs from the artists joining us on the 2018 Soul Train Cruise.
The Soul Train Cruise 2018 artists are all about Old School R&B and Soul, as it is on the channels I host and program for Sirius XM- The Groove and Soul Town. We're all dedicated to continuing the celebration of soul from the 60's, 70's and the 80's. From Charlie Wilson, Eddie Levert of The O'Jays, The Pointer Sisters, Jeffrey Osborne, The Whispers, and so many more, these are the entertainers that keep this classic style of music alive. I love my job because I get to play and hear the music that touches me deeply, and I never miss an opportunity to see these unbelievable artists, all together, performing for us LIVE on the Soul Train Cruise.
Being surrounded by all of you that appreciate old school R&B and Soul music just as much as I do, has created an extended "Soul Train Cruise" family. Have you noticed when we leave the ship after the voyage is over, we say to each other "see you next year"? And, when we see each other again it's like a homecoming - our own family reunion, which I chose to kick off my Soul Train Cruise 2018 playlist with this hits like:
"I Love Music"– The O'Jays
Holidin' On – Jeffrey Osborne
"And The Beat Goes On" - The Whispers
"There Goes My Baby" – Charlie Wilson
"Games People Play" – The Spinners
"Once, Twice, Three Times" – Howard Hewett
"Disco Inferno" – The Tramps featuring Earl Young
"Stone Soul Picnic" – Marilyn McCoo and Billy Davis, Jr.
"Kiss And Say Goodbye"– Gerald Alston
Tune into The Groove (Channel 50) and Soul Town (Channel 49) on Sirius XM to hear more of the songs from our favorite Soul Train Cruise artists. I look forward to our family reunion in late January as we celebrate "Love, Peace and Soul".
I can't wait to see you,
-BK Kirkland