A Special Invitation from Marilyn McCoo & Billy Davis Jr.!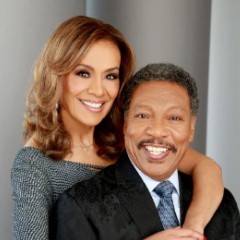 Marilyn McCoo and Billy Davis, Jr., are the Original Stars and lead singers of the legendary group, The 5th Dimension, where they launched Champagne and Pop Soul Classics, including "Up, Up and Away," "Aquarius/Let the Sunshine In," "Worst That Could Happen," "Stoned Soul Picnic," "Sweet Blindness," "Wedding Bell Blues," and "One Less Bell to Answer." After leaving The 5th Dimension, Marilyn and Billy recorded "You Don't Have to be a Star (to Be in My Show)," a chart topping number 1 record, which won them their 7th Grammy Award and a television series on CBS.
Soul Train Cruise 2018 will be another week full of Love, Peace and Soul! Marilyn McCoo and Billy Davis Jr. invite you to the party on the Hippest Trip at Sea as we celebrate the legacy of Soul Train and some of the greatest artists of classic Soul and R&B. Fans will enjoy over 50 LIVE performances by Charlie Wilson, Eddie Levert of The O'Jays, The Pointer Sisters, Jeffrey Osborne, The Whispers, The Spinners, Gerald Alston of the Manhattans, Russell Thompkins, Jr. & The New Stylistics, Marilyn McCoo & Billy Davis Jr., The Miracles, Howard Hewett, Maxi Priest, Rose Royce, The Trammps featuring Earl Young, Cruise Host Tony Cornelius and many, many more!
Enjoy this special package, just for fans of Marilyn McCoo and Billy Davis Jr.:
Special private rate when you use promo code MARILYNANDBILLYFAN
An exclusive meet and greet onboard with Marilyn and Billy!
Book online or by calling our reservationists at 844-266-7685 Mon.-Fri. 9am to 7pm EST / Sat. 10am to 3pm EST.
Category
Description
MARILYNANDBILLYFAN Rate
Per Person
New Guest Rate
Savings per person
PS
Pinnacle Suites
$9,200
$9,400
$200
SA, SB, SC, SQ
Neptune Suites
$4,450
$4,550
$100
SS, SY, SZ
Signature Suites
$3,825
$4,025
$200
V, VA, VB, VC, VB, VD, VE, VF, VH, VQ
Verandah Staterooms
$2,800
$3,000
$200
C, CQ, D, DD, E, F, G, H, HH
Oceanview Staterooms
$2,475
$2,575
$100
L,IQ, J, K
Interior Stateroom
$2,075
$2,100
$25
I
Interior Stateroom
$1,800
$1,850
$50
Singles (L, M, MM, N)
Interior Stateroom (singles)
$3,000
$3,100
$100
*These prices are "cruise only" in U. S. Dollars (USD)and are quoted per person based upon double occupancy, except for "Singles", and do not include port charges, airfare, ground transportation, onboard purchases, purchased drinks onboard or excursions. It does include all meals, shows and onboard events produced by StarVista LIVE.
*Third and fourth passengers do not receive any discounts. They remain at $1000 per additional person plus taxes and fees regardless of promo code but do qualify for a meet and greet or merchandise.
To inquire about our "Military Rate" please call the office at 844-266-7685. To qualify for Military Rate, you must provide a DD-214 or a military ID.
Use promo code: MARILYNANDBILLYFAN
Book online or by calling our reservationists at 844-266-7685 Mon.-Fri. 9am to 7pm EST / Sat. 10am to 3pm EST.