Tygressa Sings Natalie…Remembering Natalie Cole, A Tribute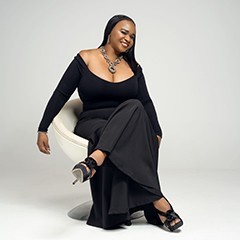 Tygressa Jones, most affectionately known as 'Ty' by many, was only 11 years old when her musical curiosity was drawn to Natalie Cole's sultry yet powerful vocal tones and style. She recalls at such a tender age singing "I'm Catching Hell (living here alone)" and feeling every bit of the pain and regret the lyrics aligned with such incredibly orchestrated music would suggest. It was where and when she began to experience the emotional effects of meaningful lyrics. Having claimed the albums of her older brother, Ric, who was a local Deejay – The Black Dragon – at the time, Ty learned and mimicked every song on those albums – Side A and Side B – lyric for lyric, note for note. Being a member in her elementary school chorus was also very instrumental in the development of her voice and vocal range. As a result of the chorus, the Carpenters is her all-time favorite singing group!
Born the fifth of six children – three sisters and two brothers – Ty attended public schools in the suburbs of Maryland, graduating ahead of her class at the age of 16. The first in her family to attend college, Ty furthered her education by earning a Bachelor of Science, Master of Business Administration and Juris Doctor degrees, and serves as Chief of Staff on the Executive leadership team at her employer.
Ty comes from a musically inclined and talented family where her mom, sisters and brothers sing, play and love to dance. Ty's father died when she was only two years old– he too was a percussionist. Music was always in their home and her mom enjoyed joining the children in dance and song. Ty remembers having very little materially, but recalls having all that really mattered: family, love, food, and of course music.
Ty participated in the local area and school talent shows with duet partner and childhood 'boyfriend', Martin Lawrence (renowned comedian), where they sang and won talent contests with their vocal overlays to Denise Williams and Johnnie Mathis's – Too Much, Too Little, Too Late; Roberta Flack and Donnie Hathaway's – The Closer I get to You; and Peaches and Herb's – Reunited. She also showcased talent with her neighborhood girlfriends to tunes by The Emotions, Sister Sledge, High Energy, and The Jones Girls, just to name a few. In Junior High School, Ty was a vocalist with a local 'Go-Go' band, Unity Band & Show. Ty later competed and won in the area's Coors Light Super Talent Showcase and auditioned and performed for three consecutive weeks on The World's Famous Showtime at the Apollo, having been prepped in advance for stage presence by national recording artist, Renee Diggs of the singing group Starpoint. On Showtime at the Apollo, Ty won first place the first and second weeks of her performances where she sang "Lean on Me" by Melba Moore and placed third her final week before being sent home. The call from Ed McMahon of Star Search never came.
Ty's intimate exposure to the studio work and backstage preparations of several esteemed Atlantic Records recording artists only fueled her desire to perform in live settings. Named "First Lady" by fellow band members of their Classic Old School R&B and Funk band, Tomorrow's Time (2010), they wow'd mature audiences with their selection of 70's music, where she led vocals on songs of artists such as Chaka Khan, Lyn Collins, Mavis Staples, Betty Wright and Gladys Knight, among others. After five great years with the original members of Tomorrow's Time, the band continues today with new players and exists as T-Time "Refunked" – Tomorrow's Time Band.
The love of music and Ty's passion for singing is apparent in her insistence to realize her dream. She is now enjoying the opportunities given to keep the music of the incomparable Natalie Cole alive and heard as The Natalie Cole Tribute Band puts "Tygressa Sings Natalie" on stage!