The Soul Train Cruise Comedy Club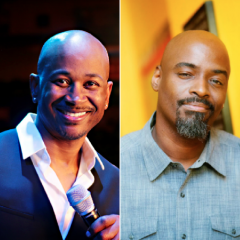 Kivi Rogers
Turning off the computer was the best decision Kivi Rogers ever made. He hit the comedy stage in the early 90's and has enjoyed the ride ever since. From landing a television development deal with Castle Rock Entertainment, to being a featured performer on shows like The Tonight Show with Jay Leno, HBO's Def Comedy Jam, The Last Comic Standing, and Comics Unleashed. Kivi's big screen debut came in 1996 in the cult film "Romy and Michelle's High School Reunion", and he followed that up the with guest starring roles on hit shows like; Everybody Loves Raymond, Dharma and Greg, and The West Wing. While acting is cool, Kivi enjoys nothing more than making audiences howl. He performs in clubs and colleges around the country and has also gone overseas more than 25 times to perform for the troops in over 50 countries.
---
TuRae
TuRae's comedy career began while attending Temple University in Philadelphia Encouraged by friends, he entered and won his first open mic competition at the famous Laff House Comedy Club. Drawing on his urban upbringing and experiences, the 6'6 not a basketball star and neighborhood geek demonstrates an engaging and earnest style of comedy with broad appeal.
TuRae's debut on Comedy Central's "Live at Gotham" continued his stay on television with more than 10 stand up appearances on the BET network programs such as "Comic View, The Sumner Report, One Mic Stand, and Partners in Crime"
TuRae has become a recognizable face on the network and a favorite in the marketplace. The urban comedy magazine Humor Mill described TuRae's performance on HBO's "Def Comedy Jam" as one of the "funniest of the season."
TuRae continued to delight viewers on the nationally televised formats: the Starz Networks Martin Lawrence Presents; 1st Amendment Standup & Byron Allens Comics Unleashed. TuRae again appeared on national television with his standout performance on "The Monique Show" and Byron Allen's "Comedy.TV." TuRae's also made his first movie debut as he appeared in Kevin Hart's "Laugh at my Pain." TuRae continued to add to his television appearances gaining credits on Walter Latham's Comedy After Dark & BounceTv's "Off The Chain." As well as the Tidal Network's "No Small Talk" Comedy Series.
TuRae took to the road for national tours with Sommore as host of her "Royal Comedy Tour" and the "Standing Ovation" tour. TuRae was also asked to open dates for the legendary R&B group New Edition's 30th Anniversary Reunion Tour. Expanding on his comedic talents, TuRae came into his own as a writer, penning routines for Sommore's "Chandelier Status" comedy special, as well as monologues for the latest season of Comicview on BET, & scene writing for the VH-1 show "This Is Hot 97". After taping Comedy Central's "Hart of the City".., TuRae was invited back to the Just For Laughs Montreal Comedy Festival to film Kevin Hart Presents: LOL Network. In 2017 TuRae was named the HBO Wings Comedy Competition champion as he wowed audiences at the American Black Film Festival in Miami. Once again television requested his services as he will appear on BET Networks latest comedy variety show "50 Central"
With his interests in the Philadelphia Comedy College, & his production of "Soul Comedy@ Warmdaddy's a weekly stand up performance platform. As a series slated for pay per view release, the options are many as TuRae continues to work and thrive in the industry which he loves.