The Mary Jane Girls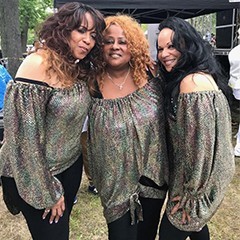 The Mary Jane Girls featuring Val Young, an American R&B, soul, and funk group that started in the 1980s. They were protegees of singer Rick James. The Mary Jane Girls consists of Candice "Candi" Ghant, Farah Saraya Melanson and Val Young.
American recording artist Val Young (also known as "Lady V") who achieved her greatest success during the 1980s. Born in Detroit, Michigan, Val Young first captured the attention of funk musician, George Clinton. She then went on to sing background vocals for greats like The Gap Bank, George Clinton, The P-Funk and Roy Ayers. It wasn't until 1980s that the Pop Funk superstar, Rick James was deeply impressed by her beauty and musical talent. James promoted her as the "Black Marilyn Monroe" and signed her to Motown Records shortly after, where he helped produce her debut album, Seduction, which was released in 1985. Seduction became her first gold album and included some of her all-time hits such as "Mind Games," "Piece of My Heart" and "If You Should Ever Be Lonely." She released her second album, Private Conversations, with Amherst Records with three songs produced by Rick James.
One of her most memorable collaborations is "To Live & Die in LA" featuring Val Young and the late Tupac Shakur with whom she shared a very special working relationship. She has also worked with the original members of Rufus which included Kevin Murphy and Tony Maiden.
Following her success, she has a long list of musical friends that have helped her throughout her musical career including; Rick James, QDill, Gerald LeVert, Roy Ayers, Teena Marie, Waymen Tisdale, P-Funk, Deborah Cox, Snoop Dogg, Ice Cube, Bobby Brown, Yo-Yo, Too Short, Bobby Womack, Kidd Frost, Charlie Wilson, Jimmy Jam and Terry Lewis, Sly Stone, Bootsy Collins, Ray Parker Junior, The Mary Jane Girls, Kevin Murphy, Tony Maiden, Tupac Shakur, Big Daddy Kane, Kurtis Blow, Miki Howard, Warren G, Nate Dogg, Dr. Dre, Keith Sweat, Eddie Griffin, Binky Womack, El DeBarge, Tone Loc, Bad Azz, The Gap Bank, Mack 10, Nas, The Outlawz, Michael Bivins & The Eastcoast Family, Johnny Gill, Raphael Saadiq, Yukmouth, Tam Rock, Slave, The Brothers Johnson, and her dearest brother Eddie Murphy.
Candice "Candi" Ghant, from Detroit, Michigan, signed her first Exclusive Artist & Writers Contract with Motown Records at the age of 19. She then moved to Los Angeles which led to her being a part of the all-female group Softtouch with Fantasy Records, which was created by Billy Henderson of The Spinners. After a brief time with Softtouch, Candi auditioned for Motown's "King of Punk Funk" Rick James. She moved on to become the second Mary Jane Girl and secured her spot as one of the Princesses of Funk. Candi has spent her time recording background vocals for other artists including: Ice Cube, Rappin 4-Tay, Kidd Frost, Baby Bash, Mixmasters, Binky Womack, Snoop Dogg, Mack 10, N2Deep, Kurtis Blow, Latino Velvet, K-Dee, Big Daddy Kane, QDill, Val Young, Rick James, Peabo Bryson, Bootsy Collins, Phred Mosbey, Smokey Robinson, Nate Dogg, Bobby Womack, George Clinton, Janie Bradford, Klymaxx, Ron Tyson, Johnny Bristol, El DeBarge, Bobby Brown, Paul Jackson, Jr., Jack Ashford, Hunk Cosby, Ray Parker, Jr., Drak from Slave, Wokie Steward, Sylvia "Trippy" Smith, Marilyn McLeod, and Wayman Tisdale.
She has appeared on various soundtracks including: A Fine Mess (1986) Boyz in The Hood (Ice Cube), True To The Game, Indigo Blues, "Missin U" with Phred Mosbey, Anutha Music Company, Treat Her Like A Lady (Gospel Play) featuring Hawthorne James aka Big Red from the Five Heartbeats – where she also was the Assistant Music Director for the background vocals in the play.
Candi also found time to produce for: FLOSS former Ladies of the Supremes featuring Ollie Woodson, Latino Alliance including Baby Bash and Kid Frost, the infamous Mobb Squad with Larry Darrell, Thin C. & Lady V and "Christmas Song" with Vanessa Bell Calloway.
Farah Saraya Melanson, Los Angeles native, majored in music and has played multiple instruments including the violin, bass, clarinet, cello and flute. She has worked with many artists including The May Jane Girls featuring Val Young, New Birth, Jon B and has recorded with Barry White, Grady Harrell, and The 3 Elvis Sued. Farah has worked with the group The Buck Ram Platters and The Marvelettes. Farah has also been working with Val Young and Candi Ghant of the Mary Jane Girls for the last four years.