The Manhattans featuring Gerald Alston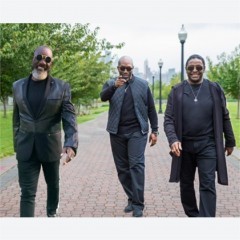 The Legacy Continues
THE MANHATTANS were originally: Winfred "Blue" Lovett, Richard Taylor, Kenny Kelley, George "Smitty" Smith and Sonny Bivins. Blue and Smitty were out front as the group's strong lead singers. Blue was also the group leader and an outstanding songwriter whose compositions with producer Joe Evans gave the group a string of hits on Carnival Records during the mid1960s.
When Smith became ill in 1970, Phil Terrell stepped in as temporary lead singer until a permanent replacement could be found. In the fall of that same year, Gerald Alston, whose style paid homage to the legendary Sam Cooke took over as lead singer. More a pop singer than either Lovett or Smith, Alston's incorporation into the group enabled THE MANHATTANS to break out of their mold as "doo-woppers" and achieve major national success on Starday/K.ing Records with a Teddy Randazzo love song entitled "A Million To One". In 1972, Blue Lovett's "One Life To Live" reached the top 20 R&B charts. With Alston handling all lead vocals and Lovett providing smooth spoken introductions, THE MANHATTANS moved to Columbia Records in 1973 where they collaborated with producer Bobby Martin on a string of hit ballads including, "There's No Me Without You", "We Never Danced To A Love Song" and "Hurt". The most notable of these ballads was Blue Lovett's "Kiss And Say Goodbye", a platinum selling #1 pop and R&B hit in 1976. In that same year, THE MANHATTANS teamed up once again with producer Randazzo to record "Feels So Good", "You're My Life" and "There's No Good In Goodbye". In 1977, they performed at President Jimmy Carter's Inaugural Ball and since then have received their share of platinum and gold singles, albums, and other industry kudos; most notably a 1980 Grammy for "Shining Star" written and produced by Leo Graham.
In 1985, THE MANHATTANS, wanting to enhance their show by adding a female vocalist to the act, chose Regina Belle after being introduced to her by legendary New York DJ Vaugh.ri Harper. Spending two years touring with THE MANHA TT ANS, she appeared on the Bobby Womack-produced single, "Where Did We Go Wrong" (a duet with Gerald Alston). She also contributed to The Manhattans 1986 Columbia Records album, "Back To Basics". A year later she was signed to the label as a solo artist.
After 16 years with Columbia Records, lead singer Gerald Alston took his turn as a solo artist with Motown Records; while Blue Lovett, due to doctor's concerns regarding his health, decided to turn his attention towards producing and grooming new artists. The late 1980's found THE MANHATTANS pursuing individual interests within the industry. In 1993, all that changed. With their 30th anniversary approaching in 1994, it was the perfect time to reunite. So, along with new members Troy May and David Tyson, a reunion tour was born.
On February 25, 1999 THE MANHATTANS were inducted into the Rhythm and Blues Hall of Fame.
In 2003, THE MANHATTANS released their first studio album in fifteen years featuring the beautiful ballad "Tum Out The Stars" which became one of the year's best songs.
On August 15, 2012, THE MANHATTANS celebrated their 50th anniversary.
Now that's history .....
Gerald Alston
As any R&B enthusiast will attest, the name Gerald Alston has always been synonymous with soul, elegance and sophistication. The one voice you never get tired of hearing, Gerald inherited some big shoes and has filled them admirably for many years. Born in Henderson, NC. Gerald Alston, the son of Rev. J.B. Alston and the nephew of gospel great Johnny Fields of The Five Blind Boys of Alabama learned his trade in church.
As a teen he formed "Gerald Alston & the New Imperials", a group that performing both secular and religious music, went by a different name, "The Gospel Jubilee" when they appeared in churches. During a local appearance, Gerald met The Manhattans when they borrowed equipment from his band. When they heard Gerald rehearsing, they loved the beautiful layered tone of Gerald's powerfully smooth voice. On the spot, they invited the 17 year old to join the group.
Gerald took over as their lead singer in 1970. The group enjoyed enormous success in the 70's and 80's with songs such as, "There's No Me Without You", "Wish That You Were Mine", "Hurt", "We Never Danced to a Love Song", "Don't Take Your Love From Me", "I Kinda Miss You", and "It Feels So Good To Be Loved So Bad". Their 1976 single "Kiss and Say Goodbye" was both a number one R&B and Pop hit.
The Manhattans won a Grammy in 1980 for their big hit "Shining Star". In 1987 Gerald left the Manhattans to pursue a solo career. His debut album with Motown Records was entitled "Gerald Alston" followed by "Open Invitation" in 1990. His third album in 1992 "Always In The Mood" was a blend of classic R&B songs with 90's music and nuances. In 1993, Gerald signed with Scotti Brothers/ Street Life Records and recorded "First Class Only". In the same year Gerald reunited with Blue Lovett and The Manhattans for a 30th year reunion performance. Following that reunion, The Manhattans featuring Gerald Alston and Blue Lovett enjoyed new found success performing globally including touring in Japan, South Africa, Jamaica and Bermuda.
In the US, The Manhattans featuring Gerald Alston and Blue Lovett have performed in many cities and top venues including Fox Theaters in Atlanta, Radio City Music Hall in NYC, Constitution Hall in Washington DC., Universal Amphitheater in Los Angeles and the Celebrity in Phoenix.
In September 2003 and 2006, Gerald Alston performed at the Sam Cooke Tribute held in Chicago, IL. In November 2005 Gerald Alston with The Manhattans performed at the Rock and Roll Hall of Fame 10th Annual American Music Masters honoring the legend Sam Cooke.
Being aware, active and supporting community is important to Gerald who always makes time to give back. Gerald is an active Noble with the Prince Hall Shriners attending Golconda Temple No. 24. Gerald's commitment to the organization includes his being President oftheir JC Hines College Bus tour committee. Visiting colleges including HBCU's since 2010, through this tour many young folk are encouraged and inspired to set goals for a successful future which often starts with a college education.
Gerald is the Celebrity Ambassador for Opportunities Industrialization Centers of America (OIC), a non-profit organization started by Rev. Leon H. Sullivan in the late 60's. OIC provides education, health and training services to underserved and underrepresented communities preparing people for employment in today's workforce.
When relaxing, Gerald enjoys grilling, deep sea fishing and spending time with family and friends.
Gerald began singing in the church. Still today, his love of singing gospel finds him standing in a church singing as often as he can. Gerald Alston is blessed to be able to continue to share his voice with the world bringing joy, happiness and heartfelt soul to his many fans around the globe.
Troy May
Troy May, born in Camp LeJune, NC and raised in Brooklyn NY, has for most of his life had a love for music and the Arts. Troy attended Julia Richmond High School's "Talent Unlimited" program where he hung out with classmates Kadeem Hardison ( A Different World ), Malik Yoba (New York Undercover, Empire), and Lisa Lisa ( Cult Jam). During his tenure there Troy studied music, acting and dance.
Later in his career, Troy performed solo throughout the Metropolitan area and worked as a demo singer for producers Herb Middleton and Tony Prendatt (former A&R director for Polygram Records) as he sought a recording contract. Troy was later introduced to Blue Lovett by longtime friend James Simmons. Together Blue and James assisted Troy in launching his singing career.
When Blue Lovett and Gerald Alston decided to put together The Manhattans 30th Anniversary Reunion Tour, Blue offered Troy the opportunity to join the group. Troy accepted wholeheartedly. While mainly a vivid rich baritone, Troy's dynamic voice allows him to switch to tenor. Troy co-leads with Gerald on certain songs in The Manhattans dynamic stage show.
Troy has a passion for cooking and enjoys time spent preparing delicious meals. Troy also is a whiz at and enjoys networking via social media.