The Manhattans featuring Gerald Alston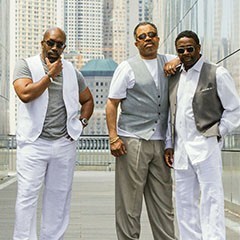 THE MANHATTANS were originally: Winfred "Blue" Lovett, Richard Taylor, Kenny Kelly, George "Smitty" Smith and Sonny Bivins. Blue and Smitty were out front as the group's strong lead singers. Blue was also the group leader and an outstanding songwriter whose compositions with producer Joe Evans gave the group a string of hits on Carnival Records during the mid 1960s.

When Smith became ill in 1970, Phil Terrell stepped in as temporary lead singer until a permanent replacement could be found. In the fall of that same year, Gerald Alston, whose style paid homage to the legendary Sam Cooke took over as lead singer. More a pop singer than either Lovett or Smith, Alston's incorporation into the group enabled THE MANHATTANS to break out of their mold as "doo-woppers" and achieve major national success on Starday/King Records with a Teddy Randazzo love song entitled "A Million To One". In 1972, Blue Lovett's "One Life To Live" reached the top 20 R&B charts. With Alston handling all lead vocals and Lovett providing smooth spoken introductions, THE MANHATTANS moved to Columbia Records in 1973 where they collaborated with producer Bobby Martin on a string of hit ballads including, "There's No Me Without You", "We Never Danced To A Love Song" and "Hurt". The most notable of these ballads was Blue Lovett's "Kiss And Say Goodbye", a platinum selling #1 pop and R&B hit in 1976. In that same year, THE MANHATTANS teamed up once again with producer Randazzo to record "Feels So Good", "You're My Life" and "There's No Good In Goodbye". In 1977, they performed at President Jimmy
Carter's Inaugural Ball and since then have received their share of platinum and gold singles, albums, and other industry kudos; most notably a 1980 Grammy for "Shining Star" written and produced by Leo Graham.

In 1985, THE MANHATTANS, wanting to enhance their show by adding a female vocalist to the act, chose Regina Belle after being introduced to her by legendary New York DJ Vaughn Harper. Spending two years touring with
THE MANHATTANS, she appeared on the Bobby Womack-produced single, "Where Did We Go Wrong" (a duet with Gerald Alston). She also contributed to The Manhattans 1986 Columbia Records album, "Back To Basics". A year later she was signed to the label as a solo artist.

After 17 years with Columbia Records, lead singer Gerald Alston took his turn as a solo artist with Motown Records; while Blue Lovett, due to doctor's concerns regarding his health, decided to turn his attention towards producing and grooming new artists. The late 1980's found THE MANHATTANS pursuing individual interests within the industry.

In 1993, all that changed. With their 30th anniversary approaching in 1994, it was the perfect time to reunite. So, along with new members Troy May and David Tyson, a reunion tour was born.

On February 25, 1999 THE MANHATTANS were inducted into the Rhythm and Blues Hall of Fame.

In 2003, THE MANHATTANS released their first studio album in fifteen years featuring the beautiful ballad "Turn Out The Stars" which became one of the year's best songs.
Between December 2014 & February 2015, Edward "Sonny" Bivins, Winfred "Blue" Lovett and Kenneth Kelly passed away.
On August 15,2019, THE MANHATTANS celebrate their 57th anniversary.
With Troy May, David Tyson & Gerald Alston
The Legacy Continues!!!!