The Dazz Band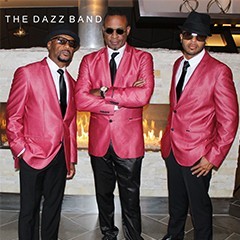 The Dazz Band was the first R & B Group to win a Grammy out of Cleveland, Ohio for Best Performance by a Group or Duo with their smash hit "Let It Whip". Cleveland's Mayor George Voinovich designated December 31st 1982 as "Bobby Harris and The Dazz Band Day" as the band escalated to fame on the Motown label, forever making their mark on music history.
While most known for "Let it Whip", the Dazz Band scored 20 Hits on the Top 100 R & B and Pop Charts from 1980-1998, produced by both Reggie Andrews and Bobby Harris. The Dazz Band often performed on popular shows of the 80's and 90's including Soul Train, Solid Gold & American Bandstand.
Skip Martin, lead vocalist and trumpet player has been performing with The Dazz Band for combined total of over 25 years. Along with Harris, Skip Martin also achieved a Grammy Award for his performances with Dazz Band. Skip Martin is a MOBO Award recipient who achieved an honorary Doctorate in Music for his high level talents both vocally and through instrumentation. Skip's outstanding performance skills, powerful tenor voice and masterful trumpet skills make him a musical force to be reckoned with.
The Dazz Band's music has sustained the test of time and remains in recurring rotation on satellite, internet and traditional radio. Their songs have resulted in millions of downloads by fans from all parts of the world as people continue to seek out Dazz Band music. The Dazz Band was honored to travel to Iraq on three occasions to perform for the United States troops and help raise over 30K for the Susan B. Komen Breast Cancer Foundation. The Dazz Band continues to enjoy making a difference in the lives of families and children in need; partnering with countless organizations to help raise funds through their high energy and high level performances.
Recent performances also include the televised 23rd Annual Trumpet Awards, the Soul Train Cruise, and Tom Joyner's Fantastic Voyages. In 2014, Bobby Harris and Skip Martin were pleased to welcome the soulful professional and accomplished vocalist and performer Donny Sykes to the group. Donny is a native of Los Angeles, California and has traveled the world performing in musical theater and on television, with legendary artists from Stevie Wonder to Tyler Perry and Beyonce. The Dazz Band is looking forward to bringing new music to new audiences everywhere in 2018…