Stephanie Mills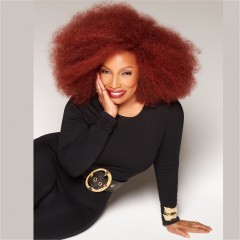 Stephanie Mills is a Grammy award-winning singer, songwriter, actress and Broadway star. Born in Brooklyn New York, she started singing at the age of three. At the age of nine, she starred in the Broadway musical "Maggie Flynn".
She followed that up by winning the competitive Amateur Hour at the Apollo for six straight weeks. The New York native rose to stardom as "Dorothy" in the original Broadway run of the hit musical, "The Wiz".
In 2015, Stephanie was cast as "Aunt Em" in the NBC live musical of "The Wiz, forty years after her initial Broadway appearance in the production. Ms. Mills, studied music at New York's prestigious Juilliard School of Music.
The recipient of countless number one hit records to include "I Have Learned To Respect The Power Of Love", "I Feel Good All Over", "You're Putting A Rush On Me", "Something In The Way You Make Me Feel", and "Home".
Ms. Mills have won multiple awards including a Grammy Award, Tony Award, NAACP Image Awards, and American Music Award just to name a few. She continues to do what she loves, which is travel around the country on tour and performing live in front of sold out audiences spreading love and empowering people to be their best.
On June 19th, 2021 Stephanie Mills announced the release of her new single "Let's do the Right Thing". Her long awaited new music brings fans back to her traditional soulful sound infused with an empowering message that challenges the listener to take an introspective look at oneself to create love and peace.
Ms. Mills wanted to do more than just sing about love. As the mother of a Down Syndrome child, Ms. Mills recently formed her own 501(c)3 non-profit corporation. The 444LOVE Foundation headquartered in Charlotte, NC; The 444LOVE Foundation is a nonprofit that advocates and invests in caring for, educating, and developing programs for individuals with special needs. The foundation has evolved fortifying its mission of putting love back in the community by educating children, nurturing them with love and showing them that someone cares. The mission of 444Love is to create a positive change in our community.