Original Soul Train Dancers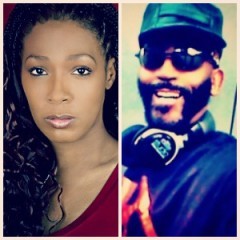 Derek Fleming a featured dancer on the long running television series, "Soul Train" for 13 years was born in Texas raised in Southern California. Derek aka ~ DFox*, started the trend of wearing foxtails as an accessory on his television wardrobe to stand out…and it caught the likes of many famous personalities like Madonna, Grand Master Flash and as recently as Chris Brown. Designers such as Louis Vuitton, Prada, and Versace have used fox tails in their ads and runways shows. Derek able to do most styles of street dance also choreographed many of the opening dance routines and closing segments on Soul Train. Derek is mentioned as one of the ICONS of SOUL TRAIN, featured in books and documentaries. Derek's clothing and likeness will be inducted into the Smithsonian's National Museum of African American History & Culture in Washington D.C ~ The Soul Train Exhibit in fall 2015 early 2016. In the 80's…Derek portrayed an artist in the feature film, "Body Rock" who bared a striking resemblance to Jean Michel Basquiat famed graffiti artist, Derek's character -'Maurice Bizarre' was just a cameo appearance that struck a chord with fans of art and music. Although the film didn't do well at box office…it captured the 80's music, dance, catch phrases and clothing. Being a featured dancer, would also open up opportunities for Derek to travel the world from the United States, Mexico, Japan, Europe, Canada and most parts of the Caribbean.
Derek is a photographer, published author, and artist… some of his current pieces ( 35 ) ~ titled the "LINE UP SERIES" is mixed media, collage, acrylic on 4 x4 panels that depict different ethnic visions. Derek's series of photography prints; "Orange in the Big Apple"…where he approached people of NYC.., policemen, firemen, taxi drivers clergy, and everyday people holding an orange and photographed each engaged with the fruit. Derek's book titled …, "Get Me to the Train on Time"…is loosely based on his life growing up in a predominately white Orange County to becoming a Soul Train Icon. Derek is proud and honored to be an ambassador for Soul Train dedicated cruise.., " the Hippest Trip At Sea " the last 4 years. It has often been said that the life of an artist can be one of poverty, hard work with little, if any, recognition. However, to meet Derek Fleming aka DFox, you would be misrepresenting him to suggest that he lived an impoverished life. He is a spiritual man full of life and verve.
---
This year at the 8th Annual Taste of Soul, Bakewell Media Production will provide the public an opportunity to enjoy a creative combination of raw and seasoned talent as they perform live on the StarQuest Singing Competition Stage. Past and present artist will once again demonstrate why they were selected as finalist as they bring their unique voices to the public stage.
MONIQUE "Mo Que" CHAMBERS Dancer/Singer 2012 StarQuest Finalist
During the 2012 StarQuest Competition we had hundreds of entries but very few finalists. Amongst our list of previous contestants we caught up with two outstanding StarQuest performing artists Monique "Mo Que" Chambers and Duprice Scruggs. Both independent artists highlight personal moments of progression that have taken place in their careers after the competition and their special appearances at the Taste of Soul and the legendary show, Soul Train.
Los Angeles Sentinel: When did you get your start in the entertainment industry and discover your voice? Monique "Mo Que": I got my start in the entertainment industry at the age of five. My mother had me dancing at an early age. Performance wise, I started singing when I was 21 years old in a group called Taj who was managed by Vivian Green. She was a former vocal trainer for the Jacksons and other big artist in the industry. Her daughters are one the last set of the Supremes. You guys are actually the first to find out. When I was 18 years old, I started creating music and trained myself to sing through Whitney Houston. I grew and got stronger then I linked up with the group Taj and Vivian Green. Long story short, while we were rehearsing for the audition to be in a three girl group on Michael Jackson's label, Vivian passed away. During that time, the group Brownstone was created. Till this day, I think about it all the time because she really inspired me.
LAS: How did you wind up being a finalist on StarQuest?
MQ: Well, I am a dancer that sings. I actually was a part of the production team on StarQuest. Once I mentioned that I dance and sing to Tony Cornelius and the crew they inspired me to audition. As I got more involved, I did apply to audition through Soul Train. I sang an original tune that I wrote called, "It's All In the Spirit". The judges liked it and that is how I became a finalist.
LAS: Given your diverse array of talents, what have you been doing since your performance on StarQuest?
MQ: Mainly my music and dance. Right now Soul Train looks like it is making a big leap for next year and I am definitely involved. I am one of the Divas featured on the show. It's really big. Magic Johnson has taken it over and there is lots of excitement. Independently, I am in the beginning stages of working on my own music projects that I will promote on-line. The producers I am working with are Jeff Russell and J-Swole. I am a very spiritual person and inspired by my mother who was also a singer and dancer. I cannot say everything that is happening but it is really exciting. It's all "love, peace and soul" and I hope to be a part of StarQuest again.