Raydio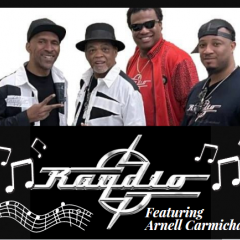 Raydio is an American Funk and R&B vocal group formed in Detroit, Michigan in 1977.
Raydio scored their first big hit in early 1978 with "Jack and Jill", which was taken from their self-titled debut album. The song peaked at #8 on the U.S. Billboard Hot 100 chart, and reached #11 in the UK Singles Chart, earning a gold record in the process. "Is This a Love Thing" peaked at #27 in the UK in August 1978.
Their next successful follow-up hit, "You Can't Change That" was released in 1979, and lifted from their Rock On album. The single reached #9 on the Billboard chart that year.
By late 1980, the group had become known as Ray Parker Jr. and Raydio, and they released two more albums: Two Places at the Same Time (1980), and A Woman Needs Love (1981). These spawned another two Top 40 single hits ("Two Places at the Same Time" - #30 in 1980; and "That Old Song" - #21 in 1981).
Their big hit, "A Woman Needs Love (Just Like You Do)," was also released in 1981, and peaked at #4 on the Billboard Hot 100. In 1984 Ray Parker Jr., scored six Top 40 hits in the 1980s, including "The Other Woman" (Pop #4), and "Ghostbusters". The latter song was the title track of the box office hit film Ghostbusters. The single stayed at #1 for three weeks on the Billboard Hot 100 in 1984. Raydio performs Ghostbusters in their shows.
Core Members of Raydio are:
Arnell Carmichael – Guitar and Vocals: 4 Gold Records and contributing vocals on the Grammy Winning Song Ghostbusters.
Giovanni Rodgers – Vocalist
Chris Thomas – Drums and
Lavon McPherson – Bass and Vocals