Philadelphia International Records former EVP Charles "Chuck" Gamble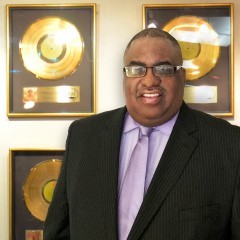 Chuck Gamble is currently the Vice President of Catalog Promotions for Warner Chappell Music and responsible for working with over 100 Music Catalog Estates and up wards of over 10,000 Catalog Legacy Hit Songs including Kool and the Gang, Barry White, Sonny Bono, Thom Bell and the vast Gamble and Huff Catalog, etc and more. He works with promoting the Catalog in over 40 Territories around the globe. He also is Senior Executive Consultant for the legendary and family related business of Gamble Huff Entertainment, LLC.
As former Executive Vice President and current Senior Executive Consultant for the Gamble Huff Organization, Chuck is known in the music industry as an executive veteran known for the past 19 to be responsible for the administrative, operations, marketing and branding oversight of the legendary record label Philadelphia International Records (PIR) and the iconic Gamble Huff Music Publishing catalog and brand. Also known as the Sound of Philadelphia(TSOP), PIR is home to legendary producers and writers Kenny Gamble, Leon Huff and Thom Bell (Gamble Huff and Bell).
As Executive Vice President of the various Gamble and Huff Companies associated with the brand, Chuck oversaw all areas of the organization including its master recordings, publishing, royalty operations and other catalog music assets.
In his role as EVP representing Gamble, Huff and Thom Bell, Chuck successfully managed and marketed the historic and massive R&B, Soul and Pop Music Catalog that included hit songs such as "If You Don't Know Me By Now", "Love Train", "Me and Mrs. Jones", "Rubber Band Man", "Don't Leave Me This Way", "For Love of Money", "Ain't No Stoppin Us Now", "I Love Music", "When Will I See You Again", "Expressway to Your Heart", "TSOP-Theme for Soul Train", "Now That We Found Love" and hundreds more. Chuck worked with and managed over 170 Artist, Producer, Writer and Estate Royalty Accounts including The O'Jays, Lou Rawls, Teddy Pendergrass, Patti LaBelle, Phyllis Hyman, Harold Melvin and Bluenotes, Billy Paul, Dee-Dee Sharp, McFadden and Whitehead, Dexter Wansel and Bunny Sigler and many more roster accounts.
Chuck is renowned and best known in the industry as the marketing and branding "guru" for the relaunch and rebranding of the PIR/GH/TSOP brand in the areas of synch licensing for television, film and commercial use. This included the development of strategic relationships that increased revenue and exposure through covers and sampling by top global artists and producers over the past decade. In addition, Chuck's very strategic partnership with the catalog's publisher Warner Chappell Music was a key component for the relaunch of the brand along with PIR's licensing and distribution partners Sony Music, EMI and DMG. He is known for pitching and landing one the biggest synch deals in advertising, with publisher WCM, for Coors Light Beer featuring The O'Jays hit song "Love Train," which ran for five years.
Chuck's creative energy, diversified efforts and vision in branding the catalog was further evident when he was successful in getting Gamble and Huff and the PIR Catalog inducted into several Halls of Fame, including the Dance Music Hall of Fame and Rock and Roll Hall of Fame. He also brought the catalog new exposure with a special honor on "American Idol" in 2005.
Over the years, in addition to being the marketing and branding face for promoting the physical, digital and synch catalog for Philadelphia International Records, he has worked closely with forging collaborative ties as the "squeaky wheel" for the catalog's master recording partner, Sony Music, and its publishing partner, Warner Chappell Music, generating constant attention and exposure to become one of the most sampled and licensed catalogs in the world.
Prior to coming to the PIR/Gamble and Huff organization , Chuck was involved in the Information Technology Business where he developed and managed a Music Publishing Royalty Processing System used by several independent publishing firms in New York and Philadelphia, including "Fourth Floor Music" and the legendary Gamble, Huff and Bell owned "Mighty Three Music". In 1998, Chuck used his extensive corporate business background in music publishing, technology and branding experience to assume the family business helm of Philadelphia International Records and Gamble Huff Music Publishing with an extensive internal restructuring that streamlined the entire company.
Prior to Chuck accepting the position at Warner Music Group/Warner Chappell, Mr Gamble was CEO and President of entertainment consulting firm called "Gamble Global Entertainment Group, LLC" that provided entertainment, marketing and branding services to both music industry and other corporate clients, including live entertainment featuring "The Sound of Philadelphia".