Original Soul Train Dancer Cheryl Song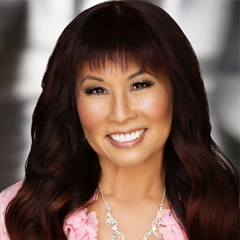 Cheryl Song is best known as Soul Train's most popular dancer. Although she always enjoyed dancing as a child, she never expected that she would gain worldwide notoriety as "The Asian Girl With The Long Hair." A Los Angeles native, Cheryl accepted a dare from her friends to appear on the show and soon after her first appearance in 1976 she became Soul Train's first non-black dancer. She was featured as one of Soul Train's "regulars" until she left the show in 1990.
As a formally trained dancer, Cheryl studied choreography under the renowned Lester Wilson and was recruited to teach dance classes at Don Cornelius' Soul Train Dance Studios in West Hollywood, CA. She also served as executive assistant to Soul Train's creator, the legendary Don Cornelius.
Even the legendary singer, Michael Jackson, was
dazzled by Cheryl's dancing abilities. When he wanted to learn how to perform a certain dance move, first known as the "Backslide", he contacted Cheryl for help and direction. Together, Cheryl and Michael worked to perfect the step that he eventually claimed and renamed as the "Moonwalk." Her assistance to him earned for her a featured role in Michael's music video, "Beat It." Cheryl has also choreographed for Lionel Richie, the Commodores, Marilyn McCoo, Billy Davis, Jr., and others. She has also served as the creative director for the exercise videos of Jane Fonda, Jayne Kennedy, and the
Godfather of Fitness, himself, Jack LaLanne.
Cheryl was active in both the small and big screen in the 1980s and some of her credits include appearances in Rick James' "Superfreak" music video (1981); "Big Trouble in Little China" movie with Kurt Russell (1986); HBO series "Vietnam War Stories" (1987); and the movie "Weekend Pass" (1988).
Although she has been working quietly in public service for well more than a decade, the past few years have witnessed a resurgence of Cheryl's popularity. In 2014, Cheryl guest-starred in comedienne Wanda Sykes' "HERlarious" for OWN, during which she danced on camera for the first time since leaving Soul Train in 1990. Following that, Cheryl appeared during the finale of BET's 2015 Soul Train Awards, with hostess Erykah Badu and singer R. Kelly. In 2016, she appeared in BET's "The Soul Train Life of New Edition." In January 2017, Cheryl appeared on ABC's "To Tell the Truth" starring Anthony Anderson and in September 2017, she appeared on NBC's "Marlon" with Marlon Wayans.
Cheryl has also served as a celebrity host and dance instructor onboard the inaugural and two subsequent Soul Train Cruises. Cheryl joyfully shares her blessings and generous, charitable spirit by serving as an Special Ambassador to the Don Cornelius Foundation and as the founder of the dance program for the Federal Air Marshals' Nationwide Program, "Bring Your Kids To Work Day" in Los Angeles, CA.