One Way featuring Al Hudson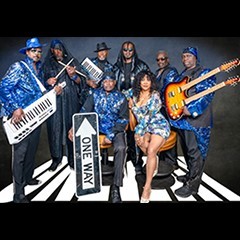 With an ever-growing constituency of "old school" funk and R&B eagerly snapping up the plethora of great music that emerged throughout the mid-to-late 70's and early 80's, major record companies have been quick to respond by providing compilations by the leading proponents of the genre.
While groups like the Ohio Players, Cameo, and Con Funk Shun may seem like the more obvious choices for the back-in-the-day reflections, One Way Featuring Al Hudson created a solid and enduring recording legacy during their respective stints with MCA Records.
Indeed this group fills an obvious void for" old school" music lovers while their home base of Detroit has long been known for the classic Motown sounds of the 60"s and early 70's, this proves that the Motor City continued to spawn some truly great talent as the 70"s became the 80's.
One Way was created by lead vocalist Al Hudson, lead guitarist Dave Roberson and former bassist Kevin McCord who began their professional career in Detroit after winner recognition at a local talent contest for radio station WCHB; a contest which had been the springboard for launching other Motor City performers including Stevie Wonder, Carolyn Crawford and Ronnie McNeir.
Working in clubs and bars in and around Detroit, the band built up a solid reputation and, inevitably, their first recording ("We Don"t Know How Lucky We Are") which was released on a local label "Major Records". The single gain enough interest and airplay to prompt Atlantic Records to offer the group a deal, negotiated by well-known Detroit radio personality Al Perkins, who became the group's manager.
The group's debut album released in "1976" entitled "Especially For You" was released under the group's former name "Al Hudson & The Soul Partners" and it contained the groups first hit single "I Got A Notion" which was written by the late Spinners lead singer Phillipe Wynn. The group began touring; appearing on shows with popular acts of the day like Barry White, The Ohio Players, Al Green, The Spinners, Natalie Cole, and label mates The Dramatics and Rufus & Chaka Khan. In "1982" the group scored its biggest MCA hit with the group penned "Cutie Pie" a Top 5 R&B single and the group's one Hot 100 pop entry, pulled from its best selling LP, Who"s Foolin Who. The group scored two more hits in succession with "Lady You Are" and "Mr. Groove" both Top 10 R&B singles from the LP "Lady".
The musical union produced two more Top 10 hits in the fall of "1986" and early "1987" entitled "Don"t Think About It" and the funky "You Better Quit". One Way, who has remained active as live performers will forever remain to be a part of the fine collection of R&B groups from the 70's and 80's.