Melba Moore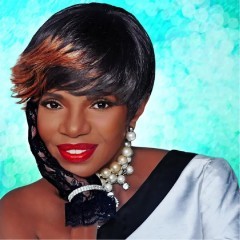 Legendary Melba Moore is back with the smooth sound of soul music that strikes the perfect balance between traditional R&B and contemporary stylings and listeners from different generations are taking notice.
The Tony Award winning and multi-Grammy nominee's single, So In Love, spent 3 weeks at # 1 on the UK Soul Top 30 Chart in November 2021 and made traction in the United States.
The making of So In Love, written by Chantel Hampton and Rahni Song, was a labor of love for Melba and her daughter, Charli Huggins.
"It was first brought to me by my daughter and her uncle, (music producer) Beau Huggins," Melba says. "Charli has grown up in the industry. She has diverse interests but one thing that I know for sure is, she has a genuine love and knowledge of music. So, we thought why don't we do a project together?"
So In Love is from Melba's forthcoming album Imagine, which is slated for release on Charli's independent record label, The Gallery Entertainment, in April 2022. The project came at the right time for the mother/daughter collaboration.
"I've worked with a few record companies in the past, (and) in its own organic way, the project ended up becoming what she and I wanted to do years ago, "Charli says. "There were several songs my uncle, Beau Huggins (the album's executive producer), (received from songwriters/producers) and he kept saying, 'I can hear your mom on this.' Beau (who executive produced Melba's albums in the 1980s) always knew my mother's voice. In my opinion, her best work has been done with my uncle. So, I approached my mom about recording the songs and we all got together and put them down."
Charli continues, "Over the years, my mom has put out a lot of dance records and we thought what we were doing was fresh and bringing her back to her R&B roots. Essentially, my family came together to help me bring my vision to reality and we have achieved that and so much more."
The album and title track, with lyrics by Chantel Hampton, sets the tone for the entire project.
"The song is about really having paradise on earth," Melba says. "(What) if everybody can live in peace? What if there was no more war? It's written so beautifully that collectively we thought regardless of what the rest of the album is, this should be what our theme is, and what we want people to focus on."
In addition to co-writing So In Love, Rahni Song and Chantel Hampton also co-wrote Take Me Way, which will be the next single from the album. Melba and her team also brought on writers/producers Janice Dempsey and Danny Pickering, who both co-wrote four tracks - Since I Took My Heart Back, Take Her Picture Down, Joy and Pain, and Forever.

Melba's songwriting/producing team is a nod to her chart-topping days of the 1970s and 1980s. However, the actress/singer wants her seasoned fans and newer listeners to know that she has evolved.
"I have lots of younger people bringing me new music," Melba says. "So, I'm making changes. I'm going to give you (my) history, but I'm not going to insist that you just stay in my bubble."
Melba's history makes her a formidable force.

Hailing from New York City, the former public school music teacher has released over twenty albums since 1970 and garnered several R&B top ten hits and two number 1 R&B singles. Her two top tracks - A Little Bit More (duet with Freddie Jackson) and Falling - charted in 1986
She also earned three Grammy nominations - the first one was in 1971 for Best New Artist. The 1976 cover of Aretha Franklin's classic Lean On Me earned Melba a nod for Best Rhythm & Blues Vocal Performance - Female, while Read My Lips, released in 1985, led to a Best Female Rock Vocal Performance nomination.
Melba's story, like other classic Black music artists, is important to note and to tell. During the height of COVID, DJs everywhere began pushing older and younger artists together on social media. DJ D-Nice often went viral during his virtual pandemic concerts because he amplified the importance of Black music by showcasing R&B giants alongside newer music stars. Melba was one of the artists D-Nice lifted up and helped introduce to a younger audience. His favorite song by her is 1978's You Stepped Into My Life. Melba says that it is important that new generations of musicians and listeners recognize the long hard road fought by African American music artists.
"We're the foundation of it, not by ourselves, but we can't be excluded because without us, you wouldn't be right." Melba says. "Since God has given me my good health and ability to continue to do my work, it's my privilege now to say, 'This is where it came from, this is how it was, and I'm here to pass it on to you.' "It is not only the foundation of Afrocentric culture, but it's part of America and world history."
In addition to her recording career, the 5-octave singer is a Broadway star.
Melba's first stint on Broadway was in the original cast of Hair in 1968. She replaced Diane Keaton and became the first African American woman to step in for a white actress in a lead role on Broadway. Two years later, she stunned in Purlie and won a Tony for her performance as Luttiebelle Gussie Mae Jenkins. (The musical was based on a 1961 play written by the late great Ossie Davis called Purlie Victorious). Her other Broadway works include Timbuktu, alongside Eartha Kitt and directed by Geoffrey Holder, Inacent Black, Ain't Misbehavin, BKLYN, and Chicago. In the mid-1990s, she set another first when she became the first Black woman to play the lead role of Fantine in Les Miserables.
Melba says of Broadway, "That was my entree into really the A-listers and it threw me into television. I was on shows with the likes of Bea Arthur, Rock Hudson, and the live shows I did, all the major supper clubs around the country, I was on Johnny Carson, and all the major TV shows. It threw me into stardom and from there on that's when my public life began."
Additional honors include a Drama Desk Award, an Ellis Island award, The Artist Guild Award, and a Trumpet Award of Excellence. Other accomplishments were her being the first solo artist to perform a non-operatic concert at the Metropolitan Opera House, performing at the L'Olympia Hall in Paris, France, playing at the White House under Presidents Gerald Ford and Ronald Reagan, and performing before the United Nations General Assembly.
Melba's busy career did not stop her from political activism.
A civil and equal rights activist in advocating for minorities, children, and women's rights, Melba marched arm-in-arm with Coretta Scott King and Rev. Jesse Jackson. She also worked closely with Dr. Betty Shabazz, Dr. Dorothy Height (National Council of Negro Women), and Dr. C. Delores Tucker (National Political Congress of Black Women).
Melba's activism led to her 1990 version of Lift Every Voice and Sing being entered into the Congressional Record as the second official Black National Anthem. In 2017, it was added to the United States National Recording Registry and preserved by the Library of Congress as an "American Aural Treasure." Melba recorded the song with Bebe and Cece Winans, Stevie Wonder, Dionne Warwick, Anita Baker, Bobby Brown, Gerald Albright, Freddie Jackson, Howard Hewitt, Jeffrey Osborne, The Clark Sisters, Terri Lyne Carrington, Stephanie Mills, and Take 6. The video, featuring a dance by Jasmine Guy, was directed by Debbie Allen, while Rev. Jesse Jackson and Lou Gossett Jr. served as narrators. (The first version recognized by the Library Congress was the 1923 version by Manhattan Harmony Four. Lift Every Voice and Sing was written and produced by James Weldon Johnson and his brother John Rosamond Johnson respectively in 1900).
In August 2022, Melba, who has continued serving the community, will receive President Joe Biden's Lifetime Achievement Award, which she says, "Comes from essentially community service and that's exciting."

Melba Moore is living her best life by doing what she loves most - working with family, recording music, and sharing her joy and strength by giving back to the community.