Johnnie Steele & The Steele4Real Band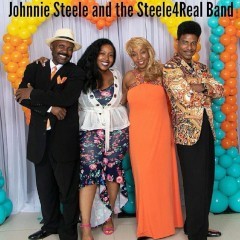 Johnnie has been a professional musician for over 30 years. His musical accomplishments are numerous; so let's just mention a few. He is founder of the famed "Steele Family" a gospel recording group of siblings, six sisters and one brother. Most recently the Steele Family has been accompanied by other talented family singers and musicians from the second generation. They have toured the country performing in renowned Concert Halls such as Carnegie Hall in New York and the Kennedy Center in Washington, DC. Johnnie also appeared in Ebony magazine highlighting the musical group he pioneered "The Sounds of Quality." This motivational singing group has performed for local and national companies featuring songs written and arranged by Johnnie expressly for corporate environments. This group has won numerous awards and has been featured on dozens of commercials and videos for Bell Atlantic (now Verizon) including appearances with James Earl Jones.
Johnnie is Music Director and Worship Leader at two churches in the Washington, DC area. He serves as musician, director, vocalist and choral leader for several choirs and ensembles. Debbie Taylor Steele also comes from a lineage of famous and talented singers and musicians. Johnnie is often accompanied by a host of talented singers and musicians from all walks of life, genres and backgrounds. His commitment to old and new sounds, technology, practice, style, performance, appearance, timeliness, fashion and living life to its fullest is reflected in his shows and his music.
Johnnie's favorite performances is with his Steele4Real Band & Show. The Steele4Real Band consists of his favorite singer in the world his wife Debbie Steele and his multi-talented daughter Shekinah Steele along with his life-long friend vocalist and percussionist Toyer Blake and nephew Jaron Ayes. He's often accompanied by the world-renowned Saxophonist Eugene Chapman. Their versatile vocals can emulate almost any artist while you hear the complete and authentic musical rendition of some of your favorite songs of all time. They have a vast repertoire of R&B, Jazz, Smooth Jazz, Pop, Seasonal and Gospel. They are able to adapt their song selection and vocals to any audience delivering ballads, easy listening, dance and requests. Johnnie and the group have a loyal fan base that follow them across the country enjoying and supporting their music. Believe me when I tell you, you're in for a treat. Enjoy, listen, dance, and groove to the smooth vocals and electrifying piano virtuoso of one the most accomplished musical groups you'll ever hear and meet, and you too will become a fan, I guarantee it.