Gospel Host Clifton Davis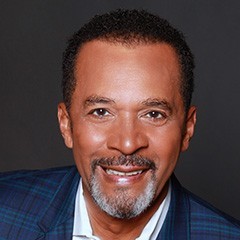 Clifton Davis is an actor, singer, composer, producer and minister. For more than 40 years he has shared his unique gifts with audiences and congregations around the world. Davis is probably best known for his 5-year run as 'Reverend Rueben Gregory' on the popular NBC television series, Amen which continues in reruns on cable TV. His earlier series, That's My Mama, served to establish him as a widely known actor and television star. Before his acting career, Davis had a successful run in Motown as a composer, earning a Grammy nomination for the hit Never Can Say Good-Bye sang by the Jackson 5.
Raised on Long Island, Davis began his acting career in New York City in the Broadway show, Hello Dolly. Six years, five Broadway shows later, and with a Tony Nomination for Two Gentleman of Verona added to his resume, he headed to Hollywood, and the rest, as they say, is history.
Currently, Davis appears in the recurring role of 'Ephraim Ware', Director of National Intelligence on the hit CBS show, Madam Secretary. He recently recurred on Marvel/Netflix's Iron Fist and still recurs on Showtime's Billions. You can next see Clifton on CBS' Blue Bloods, NBC's New Amsterdam and in the upcoming feature film, The Chinese Cop. Also, continuing his stage career, Davis recently completed a 4-year run on Broadway in Disney's incredible hit musical, Aladdin, having originated the role of 'Sultan'. Prior to that, he portrayed 'Dr. Dillamond' in the First National Broadway Tour of Wicked.
Other notable credits include: Any Given Sunday, Prayer Never Fails, Halloweentown High, Kingdome Come, Max Keeble's Big Move, Soldiers of Change, and The Climb. He made recent TV appearances on CBS' The Good Fight, FX's Political Animals, CW's Mr. Box Office & The First Family, and the ABC pilot Murder in Manhattan. Davis also starred in The Melba Moore & Clifton Davis Show for CBS and the national tour of What My Husband Doesn't Know written, produced and directed by David. E. Talbert.
Davis holds a BA in Theology from Oakwood University and a Master of Divinity degree from Andrews University. Mr. Davis is also the recipient of honorary Doctor of Letters degrees from Lincoln University, Paine College and Edward Waters College, a Doctor of Ministry from Trinity International University and just received a Doctor of Fine Arts degree from the University of Hartford. He is the recipient of more than 125 awards and citations for his social, civic and spiritual service, and Dr. Davis has been recognized by such organizations as the SCLC, World Vision, the UNCF and the NAACP. Davis is a Christian minister licensed by St. Luke Baptist Church, New York, NY. His interdenominational ministry spans more than 35 years during which he has evangelized throughout the nation, leading thousands to the love of God through Christ Jesus. For 20 years he has appeared on Christian television as a perennial host of "Praise the Lord" on the Trinity Broadcasting Network. He has also hosted such notable gospel music specials as "Gospel Superfest", "Take It to the Bridge", "The Stellar Awards", "The Dove Awards" and "The Black Achievement Awards".