BT Express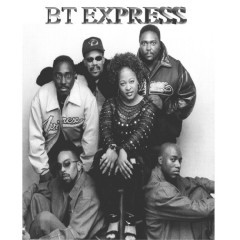 Brooklyn New York's B.T. Express zoomed onto the music scene in the early 1970's and quickly distinguished itself as one the premier dance/funk bands of the era. Whether tying a dance groove around a popular catch phrase or simply jamming while repeating an in fectious hook RT. knew how to get people onto the dance floor.
On their debut LP "Do It ('Til You're Satisfied)" B.T. had two number-one R&B and Top Ten pop hits. The funky, irresistible title cut "Do It" cleverly captured the mood of the nation with sly lyrics. The whistle at the beginning of the Grammy nominated "Express" signaled to the world serious groove was on its way. Both songs were million sellers and the album was a certified gold record as well. The group also received more recognition at the Grammy's, being nominated for Best New Artist. Subsequent LPs yielded two more R&B Top Ten singles, "Give It What You Got/Peace Pipe" in 1975 and "Can't Stop Groovin' Now, Wanna Do It Some More" in 1976.
The music of B.T. Express has shown up in the music of not only advertising campaigns of major companies - perhaps most notably for Burger King, but also has been used by many of today's leading artists, ranging from the rapper DMX, "Get at me Dog" to Kid Rock, "Ya Keep On" and most recently, Truth Hurts' "Addictive", a top ten r&b smash hit in 2002. Several movies over the years have used the music of BT. Express, the most recent being 2002's "Serving Sara", featuring Elizabeth Hurley and Matthew Perry. For the last several years BT has performed with a lineup consisting of original members Jamal Risbrook (bass, lead vocals) and Dennis Rowe (percussion). To keep the group fresh and innovative, they have infused the creative artistry of new members Valerie Adams (an amazing, dynamic vocalist that simply has to be heard), Sam Manigault (keyboards), Charmel Rogers (guitar), Neil Edwards (horns), Julian Meyers (horns) and Peter "Renaissance" Mitchell on drums. The band put out its first live CD on the Collectables label in 1998, and since that time has thrilled audiences around the US. and in Japan.
By all accounts B.T. Express is back on track to continued success.
All Aboardl!