Co-Host Angela Stribling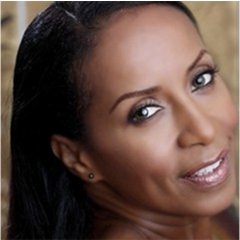 Multimedia Influencer, Angela Stribling Is Soaring to New Heights as Host of the syndicated Radio Show, Pillow Talk With Angela Mon – Fri at midnight on Sirius/XM 141 Sultry Jazz Singer – Brand Ambassador - Mistress of Ceremonies Multimedia Personality / Former BET Host / Dazzles in Fresh Endeavors.
With her distinctive voice, appealing beauty, smoldering spirit and a heart with room enough for all, she's internationally adored and a precious jewel of the Nation's Capital. Angela Stribling has arrived at a place in her career akin to an Empress of Media. She has indelibly captivated eyes, ears and imagination in her roles as an influencer, television host, radio broadcaster, evening news anchorwoman and voiceover professional. She is remembered for her class and grace served daily on Black Entertainment Television (BET). Angela is presently adored by many listeners as host of the sexy Midnight Radio Show, M - F PILLOW TALK WITH ANGELA on 96.3 WHUR and Sirius/SM Channel 141.
Already beloved and much in demand from extensive travel tours on four Continents, Angela is ready to become less of a secret to millions of potential fans stateside. She has already recorded two albums: the dynamic nightclub document Angela Stribling…Live (captured at the historic Blue Note in New York) and her studio recording from Tokyo, Japan, Tokyo Sundays (featuring special guest NAJEE on flute), a 9-song standards CD that is a luscious swing from Van Morrison's "Moon Dance" to Horace Silver's "Senor Blues!" She is preparing a third album, targeted to whisk her to her long-overdue 'next level' and recently released the first single, "Pillow Talk" produced by multiple Grammy award winner, MARCUS MILLER and featuring WILL DOWNING and GERALD ALBRIGHT. Angela's sexy rendition is a modern take on a classic made famous by trailblazer Sylvia Robinson in the soulful 70's. The stunning beauty is also ready to lend her bold, athletic and ageless visage for noble charitable organizations and apropos branding affiliations for fitness, beauty, fashion and lifestyle product lines. With her sparkling personality, demeanor of dignity and eloquence, Stribling makes a positively and powerful presence as a spokeswoman and mistress of ceremonies for Class 'A' awards shows and events, including The Soul Train Cruise.
Angela Stribling is bubbling over in anticipation of fresh endeavors for the coming years - restless with vigor, renewed goals and scintillating ideas, centered around her tastefully sexy late night music and talk program, Pillow Talk With Angela. Also in training for her Private Pilot's license, Angela Stribling is, literally, soaring to higher heights in all aspects of her amazing life. She is simply raring to go-Go-GO!